MOCAD is where adventurous minds encounter the best in contemporary visual, literary, music, and performing arts. A responsive center for diverse audiences, MOCAD presents art that contextualizes, interprets, educates and expands culture, pushing us to the edges of contemporary experience.
Located on Woodward and Garfield between the Detroit Symphony Orchestra and the Detroit Institute of the Arts, Wayne State University and the College for Creative Studies, the museum is an innovative addition to Detroit's vibrant Midtown neighborhood, and functions as a hub for the exploration of emerging ideas in the contemporary arts. The 22,000 square foot building, a former auto dealership, has been simply renovated to maintain its historic character. With its raw, flexible and cavernous spaces, the building is well suited to the exhibition of contemporary art. Our ambitious series of public programs includes lectures, musical performances, films, literary readings and educational activities for children.
MOCAD's building has ground-level entry, with one accessible main entrance and is a one-story building with no need for stairs or elevators. The building is accessible by public transportation, and has designated handicap parking spaces. The assembly areas of the building are adaptable to integrated and dispersed wheelchair seating as necessary. MOCAD's exhibit areas and counters are wheelchair-accessible. The gift store manager is aware of ADA requirements and trains staff how to assist those with extra needs. Guided tours are available for those who are vision impaired. MOCAD has a list of sign language interpreters to call in as needed for our lectures and talks. Our bathrooms are wheelchair-accessible, with accessible sinks and water fountains. MOCAD has a designated staff member responsible for overseeing accessibility. Front desk staff are trained to address accessibility questions and service animal etiquette. If you are in need of accommodations, please contact Amy Corle at acorle@mocadetroit.org.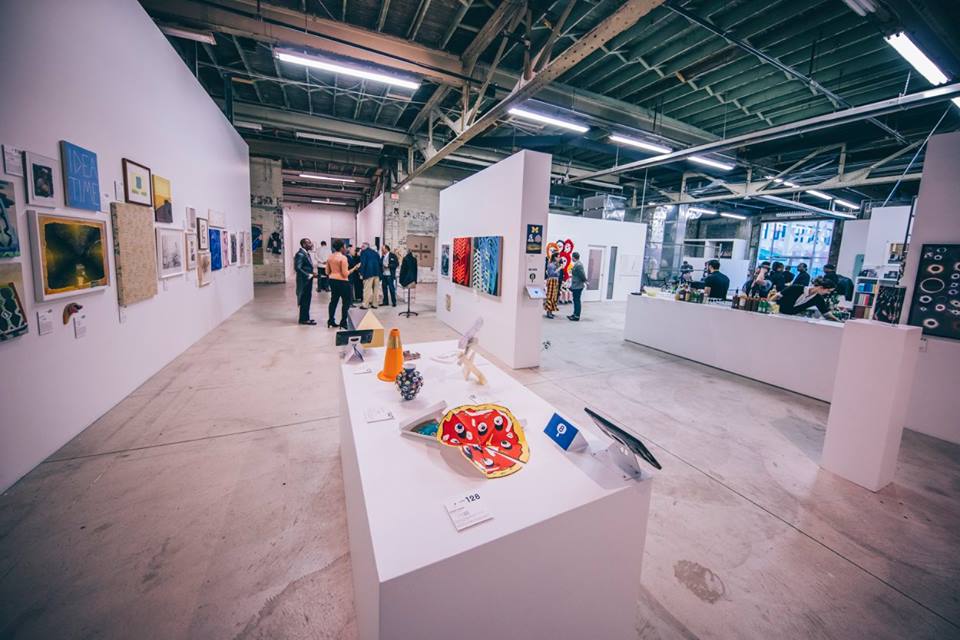 "We needed a place that anyone would feel comfortable walking into. I've always believed art is critical for everybody, not just the artists, the people who can afford to buy it or those initiated in the intellectual ramifications of it. Art adds so much to you as a human being. In this city, we need the healing qualities of creativity more than anything."
– Marsha Miro, 2006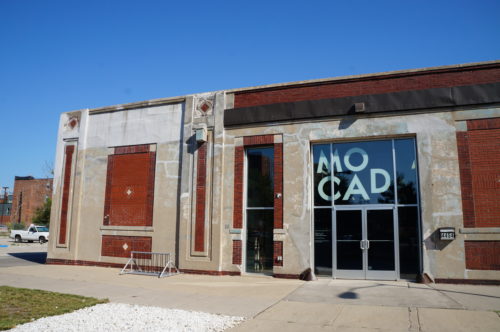 The Museum of Contemporary Art Detroit began in 1995 when Detroit Free Press art critic Marsha Miro and the late Susanne Hilberry, renowned owner of the former Susanne Hilberry Gallery, envisioned a new museum that would expand Detroit's contemporary art community. By connecting to the national and international art world, MOCAD was intended to be a nexus for educating the public about current arts and music, and play a critical role in helping regenerate the City through the arts. 
Miro, MOCAD's Founding Director, began working with a small circle of contemporary art lovers and collectors to help realize the idea. Miro approached the Detroit Institute of Art's Richard Manoogian who saw the importance of the project immediately and agreed to support it. In January 2004, Miro and an advisory group of Masco/Manoogian Foundation directors—Lillian Bauder, Sharon Rothwell, and Melonie Colaianne–began envisioning the new museum with the help of the arts community. At their suggestion, Manoogian purchased and began renovating an old car dealership on Woodward Avenue and Garfield Street in Midtown Detroit for what would become the museum's home. To rethink the 22,000 square foot building designed by famed Detroit industrial architect Albert Kahn in the turn of the century, Miro suggested using then-Detroit architect Andrew Zago. Rather than building the ubiquitous "white box," Zago designed the structure to reflect the building's evolution, making it an assemblage of periods old and new. 
Miro began planning with the help of Lynn Crawford, Cate Strumbos, Burt Aaron, Mitch Cope, John Corbin and Julie Taubman. Taubman was critical to bringing acceptance of the idea of MOCAD to the corporate and individual community. She organized the first major fundraiser, developed various art projects, and assembled the first board members, including Keith Pomeroy, Linda Powers, Shelley Tauber, Linda Dresner, Terry Rakolta, and Sandy Seligman.
The new museum's inaugural exhibitions were critical to establishing the importance and ambition of MOCAD. International curator Klaus Kertess organized the first exhibition, Meditations on an Emergency, which confirmed the museum's commitment to looking at issues particular to Detroit through the lens of the arts. Influential African American contemporary artists Kara Walker, Mark Bradford and Nari Ward showed work in Detroit for the first time. Artist Barry McGee covered the front of the building in graffiti, symbolizing that the museum would not be confined within its walls but reach out into the streets. On October 28, 2006 the museum's grand opening welcomed 2,500 people: they were a wide mix of the community, hungry and excited for a place where they could experience what was happening in the arts.
The second exhibition, Shrinking Cities, was organized by the German Cultural Foundation and explored the challenges and changing reality of Detroit and other international post-industrial cities. A fashion show by the avant-garde designer of Comme des Garcons, Reå Kawakubo, signaled that MOCAD was not going to follow the traditional fine arts model. Exhibitions like Words Fail Me, curated by British curator Matthew Higgs, highlighted the museum's international and conceptual slant, while The Past Is Present, organized by the former Susanne Feld Hilberry Senior Curator at Large, continued to focus on Detroit's rich history of murals and their impact on the character of the city.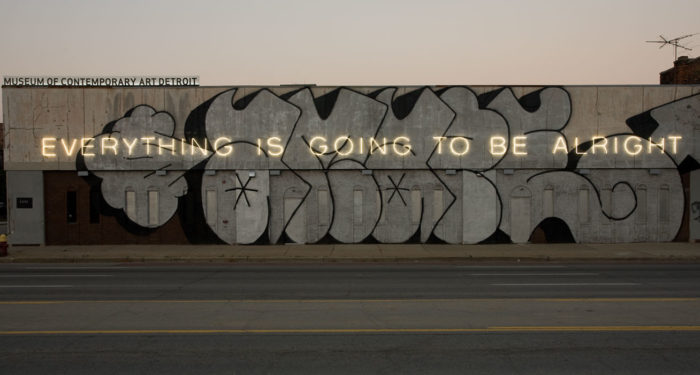 Meanwhile, the murals featured on the exterior walls of MOCAD would continually change. Following McGee, Andrew Kuo's geometric confection Living Canvas animated the front and north façades, while graffiti artist Sean Nekst took over the south side. Sanford Biggers later added to Kuo's work with a depiction of a cheshire cat grin.
MOCAD's performance history is equally rich, hosting artists such as Paul McCarthy, Kim Gordon (Sonic Youth), Goat, Phill Niblock in collaboration with the Ann Arbor Film Festival, Kraftwerk, Julianna Barwick, RoseLee Goldberg of Performa, and Detroit techno legends Derrick May, Juan Atkins, and Kevin Saunderson.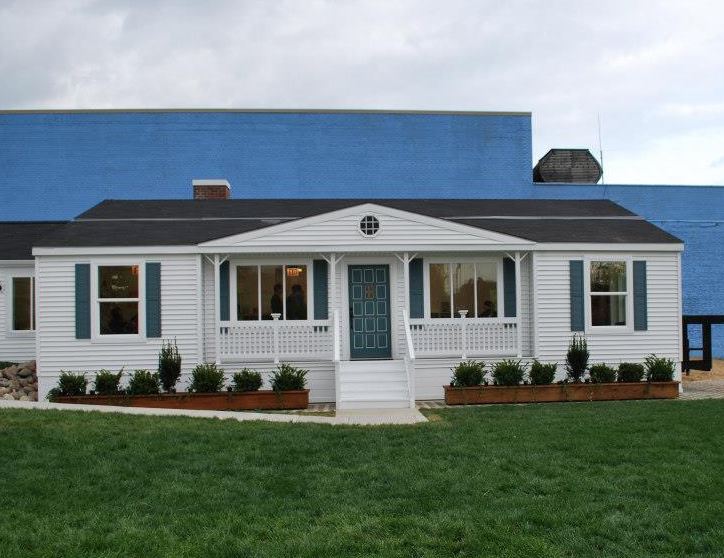 Mike Kelley's Mobile Homestead
On May 11, 2013, MOCAD opened its sole permanent installation: Mike Kelley's Mobile Homestead, a trailer-mounted life-size replica of Kelley's childhood home in Westland, Michigan. Kelley-a former Detroiter and one of the most important artists of our time-began working on the idea with Marsha Miro and James Lingwood of London's ArtAngel in 2006. A long time friend of Miro's, Kelley for years had suggested that the project be located at MOCAD and worked to realize the Homestead until his death. In 2012 the trailer section traveled around Detroit and to Los Angeles for the Mike Kelley retrospective in 2014. The permanent installation has two private subterranean levels in addition to the trailer.
Kelley conceived Mobile Homestead as a work of art that would continue to change.The ground floor was intended as a community space and since its inception has hosted projects as diverse as a nail salon, jam sessions, a quilting circle and art classes, as well as exhibits of the history of the local alternative press and election memorabilia.
Today: Ten Years of MOCAD
In 2013, Elysia Borowy-Reeder arrived to serve as the Executive Director. With her she brought stability and a significant vision for the museum's future. Borowy-Reeder worked to ensure both continuity and longevity in programming, while sustaining MOCAD's commitment to focusing on Detroit-made art. Recent exhibitions include installments of Detroit Affinities, part of the multi-year public education program DETROIT CITY. Organized by former Susanne Feld Hilberry Curator at Large, the series was designed to spark an interplay between Detroit artists and those from outside, both nationally and internationally. Since 2014, solo exhibitions in the series have featured new work from artists John Maggie, Jamian Juliano-Villani, Greg Fadell, Jonathan Hernández, Steve Shaw, Annette Kelm, and Matthew Angelo Harrison, Adriana Martinez, and Alivia Zivich.
A solo show of paintings by Detroit Cass Corridor artist Nancy Mitchnick was a highlight of spring 2016, and a major installation by Sanford Biggers followed. In addition, MOCAD partnered with Culture Lab Detroit and Bedrock Productions to facilitate an off-site installation by New York artist Gary Simmons. In February 2017, The Architectural Imagination traveled to Detroit from United States Venice Biennial Pavilion.
MOCAD is proud to have served the contemporary arts community throughout the last decade and we look forward to 25 years of MOCAD, then 50, and then a century.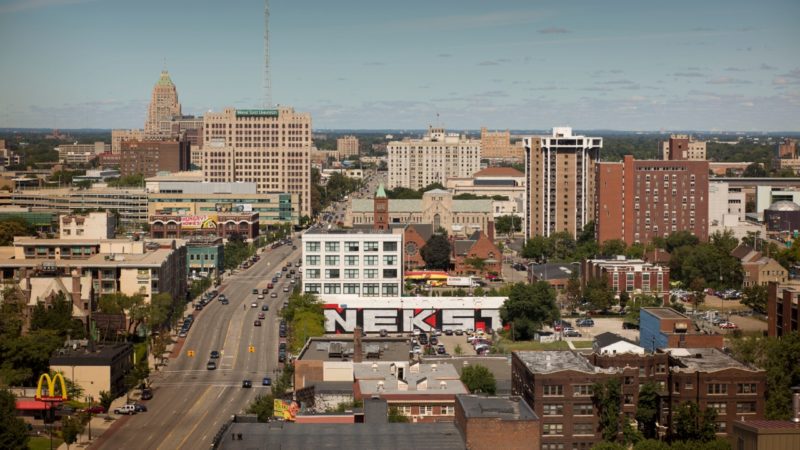 MOCAD Operations
MOCAD Operations are generously supported by Masco Corporation, Erb Family Foundation, The Kresge Foundation, Hudson-Webber Foundation, Michigan Council for Arts & Cultural Affairs, J. Christopher and Anne Reyes Foundation, and National Endowment for the Arts.
The John S. and James L. Knight Foundation supports MOCAD in experimenting with technology and new media to engage regional and international audiences both inside and outside the museums' walls. Supported programs include Daily Rush, an online exhibition program for experimental media and moving image; Radix: Experience in the Age of Digital Everywhere, MOCAD's long-term new media and technology initiative; and a series of future-focused, technology-based enhancements to the MOCAD campus.
The Erb Family Foundation approved unrestricted operating support for 39 cultural and arts organizations, including larger organizations that have had historical significance to the family and other organizations that are essential elements of a strong core central City and vibrant neighborhoods.
Capital support is provided by the Richard and Jane Manoogian Foundation,the Michigan Council for Arts and Cultural Affairs (MCACA) and  Midtown Detroit, Inc. MOCAD's connectivity initiative is supported by the Ralph C. Wilson Jr. Legacy Funds at the Community Foundation for Southeast Michigan. ​
MOCAD's 2016-2021 Strategic Planning Initiative is funded in part by a generous grant from the Kresge Foundation.
Mike Kelley's Mobile Homestead is commissioned by Artangel in association with MOCAD, LUMA Foundation, and Mike Kelley Foundation for the Arts, with the generous support of the Artangel International Circle. Support for Mike Kelley's Mobile Homestead is provided by the Mike Kelley Foundation for the Arts.
MOCAD would like to thank our Leadership Circle (Linda Dresner and Ed Levy, Roz and Scott Jacobson, Sonia and Keith Pomeroy, Jane and Ed Schulak, Sandy Seligman, and Robert Taubman) for making these programs possible: Mike Kelley's Mobile Homestead, Lectures, Poetry, Performance Art, Exhibitions, Film, DEPE Space, Music, Family Day, Public Programming, Education, Literature, and Museum Operations.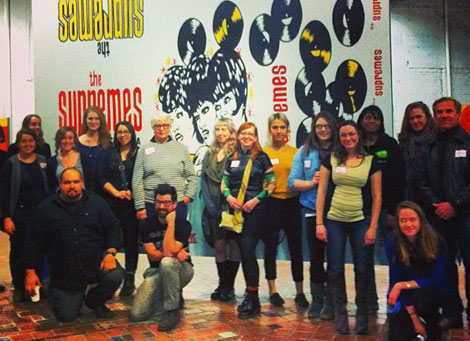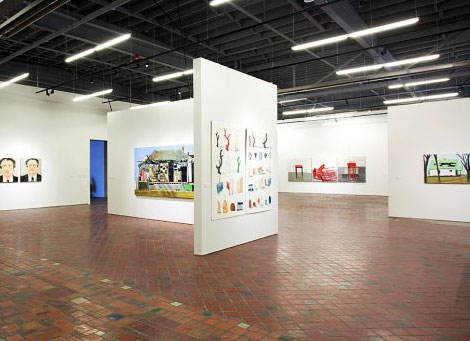 Exhibitions, Education + Public Programming
​Exhibitions and public programs are supported by the A. Alfred Taubman Foundation.
Support for the Susanne Feld Hilberry Senior Curator is provided by the Susanne Feld Hilberry Endowment for the Arts and the Ford Foundation.
The Ford Curatorial Fellows are supported by the Ford Foundation. The Intersection, an ongoing program developed by the Ford Curatorial Fellows, is supported by the Community Foundation for Southeast Michigan and the Michigan State University Hub for Innovation in Learning and Technology.
The J. Christopher and Anne Reyes Foundation has generously provided support for education and outreach.
The ESB/SKS Junior Docents and other educational programs are supported by the Edith S. Briskin/Shirley K. Schlafer Foundation.
MOCAD Youth Programs are graciously funded by the Applebaum Family Compass Fund, the Mandell and Madeleine Berman Foundation, the Vera and Joseph Dresner Foundation, the Michigan Council for Arts and Cultural Affairs (MCACA), and Heart of Neiman Marcus.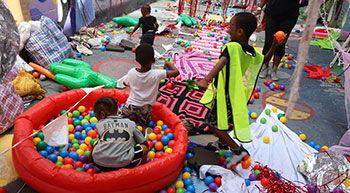 MOCAD Education + Public Programs
Additional funding for programming and educational initiatives is provided by the Edith S. Briskin/Shirley K. Schlafer Foundation.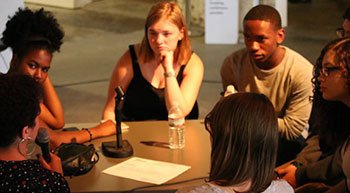 MOCAD Youth Programs
Youth programs are graciously funded by the Applebaum Family Compass Fund, the Vera and Joseph Dresner Foundation, Heart of Neiman Marcus, Mandell and Madeleine Berman Foundation, and Michigan Council for Arts and Cultural Affairs (MCACA).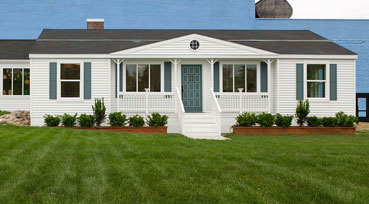 Mike Kelley Mobile Homestead
The Mike Kelley Mobile Homestead is commissioned by Artangel in association with MOCAD, LUMA Foundation and Mike Kelley Foundation for the Arts with the generous support of the Artangel International Circle. Support for Mike Kelley's Mobile Homestead is provided by the Mike Kelley Foundation for the Arts.
MOCAD is also supported by individuals and additional organizations. We thank these $500+ and Annual Fund donors.
Donor list updated January 31, 2020 and all donations received in the previous 12 months. We thank all previous donors to MOCAD.
If we have made any errors regarding your annual listing please contact the Museum at info@mocadetroit.org or by phone at 313.832.6622. Thank you!
FOUNDATIONS, CORPORATIONS, AND GOVERNMENT
$100,000+
Fred A. and Barbara M. Erb Family Foundation
Ford Foundation
John S. and James L. Knight Foundation
Richard & Jane Manoogian Foundation
A. Alfred Taubman Foundation
$50,000 – $99,999
Edith S. Briskin/Shirley K. Schlafer Foundation
J. Christopher and Anne Reyes Foundation
M. Jude and Lori Reyes
$25,000 – $49,999
Hauser & Wirth, Inc.
The Susanne F. Hilberry Endowment for the Arts
Mike Kelley Foundation for the Arts
The Kresge Foundation
StockX
$10,000 – $24,999
Applebaum Family Compass Fund
Mandell and Madeleine Berman Foundation
Edward C. and Linda Dresner Levy Foundation
Heart of Neiman Marcus Foundation Fund
Hudson-Webber Foundation
Library Street Collective
MASCO Corporation Foundation
Michigan Council for Arts and Cultural Affairs + National Endowment for the Arts
Michigan State University
Mitchell-Innes & Nash
Quicken Loans Community Fund
Red Bull Arts Detroit
$5,000 – $9,999
FACE Foundation
Gucci America, Inc.
Honigman LLP
The International Studio & Curatorial Program
Timothy Taylor
University of Michigan Penny W. Stamps School of Art & Design
$1,000 – $4,999
Art Expositions, LLC
Detroit Institute of Arts
The Eisner Foundation
Endless West
Maxine + Stuart Frankel Foundation
Marjorie and Maxwell Jospey Foundation
SB FUND Cap
Spectrum Neon
Alan Stuart + Sandra Schwartz Philanthropic Fund
$500 – $999
Joshua Liner Gallery
Midtown Detroit, Inc.
MOCA LA Projects Council
Plum Market
INDIVIDUALS AND FAMILIES
$100,000+
Frank Gallipoli
Robert Taubman
$50,000 – $99,999
Marc + Rena Gardner
Marsha + Jeffrey Miro
$25,000 – $49,999
Jeffrey Pitt
Keith + Sonia Pomeroy
Linda + Rob Powers
$10,000 – $24,999
Katie Adams
Christine Tobias Colman + David Colman
Ethan + Gretchen Davidson
Linda Dresner + Ed Levy
Dan Feld + Ann Berman
Jennifer + David Fischer
Elyse + David Foltyn
Lynn + Bharat Gandhi
Alicia Gutierrez
Erich Huang
Kelle + Christopher Ilitch
Alex Isthikhar
Roz + Scott Jacobson
Philip Kafka
Philip McKinley
Nico Meckelnburg
Sonya Moreno
Kristin + David Nicholson
Ronnie Pirovino
David + Pamela Reyes
Terese Reyes
Teckla + Michael Rhoads
Carlos Rolon
Jay Schreibman
Jane + Eddie Schulak
Daniel Sundin
Jorge Saade Tanus
Shelley + Joel Tauber
Mariano De La Torre
$5,000 – $9,999
Maggie Allesee
Grant B + James Locke
Kathy Broock Ballard
Fadi Braiteh
Andrea Brown
Elle + Tony Elder
Lance Gross
Jennifer + Brian Hermelin
Nam Huynh
Desiré Levy
Reza Mazaheri
Perrotin
Seth Rogers
Sandy Seligman
Max Teicher
Linda + Terry Theodore
Andi + Larry Wolfe
$1,000 – $4,999
Burt Aaron
Maria Aguayo
Sandro Aguayo
Henrik Almqvist
Adi Amuial
Fillon Audrey
George Augustyniak
Sally Bae
Daniel Baker
Corey Bang
Scott Barrus
Ralph + Karen Basile
Nia Batts + Patrick Linder
Abby Bayliss
James + Carolyn Bellinson
Carlos Bermejo
Kunal Bhathija
Karen Bhathija
Sanford Biggers
Grant Bilkus
Kimberly Blacklow
Julie + Eric Borman
Bryan Boyer
Andreas Brauchle
Kevin Brewer
Marcie Brogan
Travis Broughton
Christopher Burcham
Martin Burgos
Suzanne Cantwell
Carl Cashman
Curt Catallo + Ann Stevenson
Allen Chang
Glenn Charles
Ryan Christian
Aaron Coe
Lynn Crawford
JJ + Anthony Curis
Hoang Dinh
Mai Dinh
Selim Docquir
Jack Donahue
Nicole + Stephen Eisenberg
Georgia Eisner
Alexander Elers
Henry Elphick
Wes Elsbree
Akilah Ensley
P.J. Enterinc
Joan + Robert Epstein
Leslie + Jeff Lewiston Etterbeek
Suzy + Burton Farbman
Jamie Faulds
Jason Feldman
Jon Fielder
Brielle Findley
Tracy + David Fischer
Ezra Funkhouser
Charles Fuss
Adam Gage
Mala Gaonkar
Isaac Garcia
Ophelie Garcia
Billy Garner
Keith Gawreluk
Bjoern Gerstner
Michelle Giovannoni
Lauren Glapa
Adam Glauer
Adam Glazer
Katherine Briggs Goldberg + Tom Goldberg
Alexa Gray
Justin Green
Rebecca Grove
Anthony Guinan
Ana Pua Guitian
Lawrence Guseman
Elliot Hall
Sequoia Haller
Erick Hernandez
Eric Hernder
Lau Chung Hin
Robert P. Holley + Martha J. Spear
Guenther Holzhammer
Vic Hovespian
Laura Hughes
David Humphries
Te Huntley
Kenny Irwin, Jr.
Claude Isvy
Raphael Isvy
Connie Jacob
Robert Jacobs
Karen Jacobson
Marcus Johnson
Stephan Johnson
Joseph Jung
Joshua Jung
Adam Kandel
Arthur Katz
Danny Katz
Michael Kelley
Mike Kitchen + Nayeli Hernandez
Nikolas Kocina
Michael + Zina Kramer
Christopher LaFleche
Tommy Lau
Kenneth Lee
Roger Lesinski
Aaron Lim
Sean Linville
Stephan + Marian Loginsky
Yannick Lopez
Huw Lougher
John Lu
Oleg Lynch
Noel Mahmood
Ari Marcus
Ethan Marcus
Tyler Marcus
Chris Mareth
James McDonald
Eric T. McKissack
Darren Mclarnon
Patrick McShane
Matthew Mercado
Geoff Middleswarth
Djordje Milosevic
Mario Moore
Panos Moraitis
Sean Moroney
Christian Mucha + Jake Rothenberg
S Nagle
Ryosuke Nasuhara
Michelle + Linden Nelson
Sanford Nelson
Elie Neufeld
Amanda Newsome
Loc Nguyen
Steve Nikkola
Carmen A. + George N'Namdi
Steven Ogle
Kate Pakler + Bradley Pakler
Chris Pallaris
Kieran Parker-Moroney
Adrian Perez
Vincent Pham
Sam Phillips
Joseph Pizzo
Jake Poeschel
Sarah Christine Pollard
Samuel Price
Sue Price
Jorge Ramos
Jessey Reid
Nadia Remadnia
André Des Rochers
Samantha + Aby Rosen
Howard + Brenda Rosenberg
Dale C. Rosenbloom
Alison + Jason Rosenfeld
Natalie Rotola
Steven Russman
Darren Sadok
Atossa Salehi
Fabio Sandoval
Gary Santoro
Hamid Sarhdaoui
Nikita Sarkas
Dennis Scholl
Jill Schumacher
Marc Schwartz + Emily Camiener
Justin Scott
William Scullion
Perry Shum
James Silver
Oliver Silver
Todd Simon
Alex Smith
Daniel Smith
Shawn Smith
Matt Smithson
Mark Stanton
Dillon Stern
Cate Strumbos + Dozer
Andreas Styianou
James Sullivan
Shahin Tabassi
Steven Thai
James Thomas
Sarhdaoui Tijania
William Todd
Ellen Tomter
Moddie Turay
Josef Vascovitz + Lisa Goodman
Jeremy Veyera
Toly Vinitsky
Johan Wahlberg
Cody Walding
James Walpole
Bernard Wang
Zachary Warman
Rodger + Loree Wasserman
Brittany Welch
Ben White
Lorraine Wild
Jonathan Wilkinson
Daniel Williams
Sarah Winkler
Max Wolters
Roman Wong
Tanley Wong
Carol Ziecik
De Zimmar
$500 – $999
Fillon Arnaud
Ulysses Avalos
Karyn Behnke
Sabrina Bensalah
Mariclare + Bill Borowy
Quin Chen
Clark Chiu
Oliver Clatworthy
Nicholas DiCarlo
Ilene Emmer
Rochelle + Randolph Forester
Florence Gainel
Eugene Gargaro, Jr.
Jack Cohen Grimberg
Fran Gross
Deanna Hamel
Eugene Hu
Ryan Jameson
Clayton Jones
Vajra Kingsley
Lauren Kirchner
Todd Kramer
Gary Kulak
Gregory Lam
William Leung
E Lewis
Laurent Liska
Andre Ljustina
Vincent Ljustina
Aljenis Marmol
Alex Monreal
Jeff Newman
Dan Nguyen
Michelle Perron
Amanda Pineiro
Scott Reilly + Kathleen McNelis
Jared Rosenberg
Bluma Schechter
Richard Shoemaker + James Ruud
Alexis Smith
Diane Solomon
Daniel Stevens
Eric Tang
Ruth Taubman
King Tong
Steve + Jenna Tucker
Kathy Van
Selim Varol
Christopher Vroom
Daisy Wong
Zallama Zied
2019 Gala + Art Auction Participating Artists
Hernan Bas
Katherine Bernhardt
Katherine Bradford
Cyrah Dardas
Mari Eastman
Juan Fontanive
James Benjamin Franklin
Al Freeman
Sam Friedman
Timothy Hull
Kahlil Robert Irving
Kenny Irwin, Jr.
Nick Jaskey
Richard Lewis
Tony Lewis
Nicolas Lobo
Michael Luchs
Patrick Martinez
Gisela McDaniel
Darcy Miro
Nancy Mitchnick
Mario Moore
Robert Moreland
Lucille Olechowski
Sandra Osip
Angel Otero
Laura Owens
Erik Parker
Cleon Peterson
Paul Pfeiffer
Michael Polakowski
Cheryl Pope
Richard Prince
Kameelah Janan Rasheed
Scott Reeder
Tyson Reeder
Jamea Richmond-Edwards
Rashaun Rucker
Jamilah Sabur
Kenny Scharf
Robert Sestok
Xaviera Simmons
Erin Smith
Dylan Spaysky
Michael St. John
Willie Stewart
Spencer Sweeney
Tony Tasset
Ruth Taubman
Alberte Tranberg
Corine Vermeulen
Carrie Mae Weems
Kehinde Wiley
Jason Williams (REVOK)
Click below for a downloadable PDF of the Executive Summary of MOCAD's Strategic Plan.
For press inquiries, visit our press page:
Our 22,000 square foot historic venue is available to host just about any occasion.