TALI KEREN: UN-CHARTING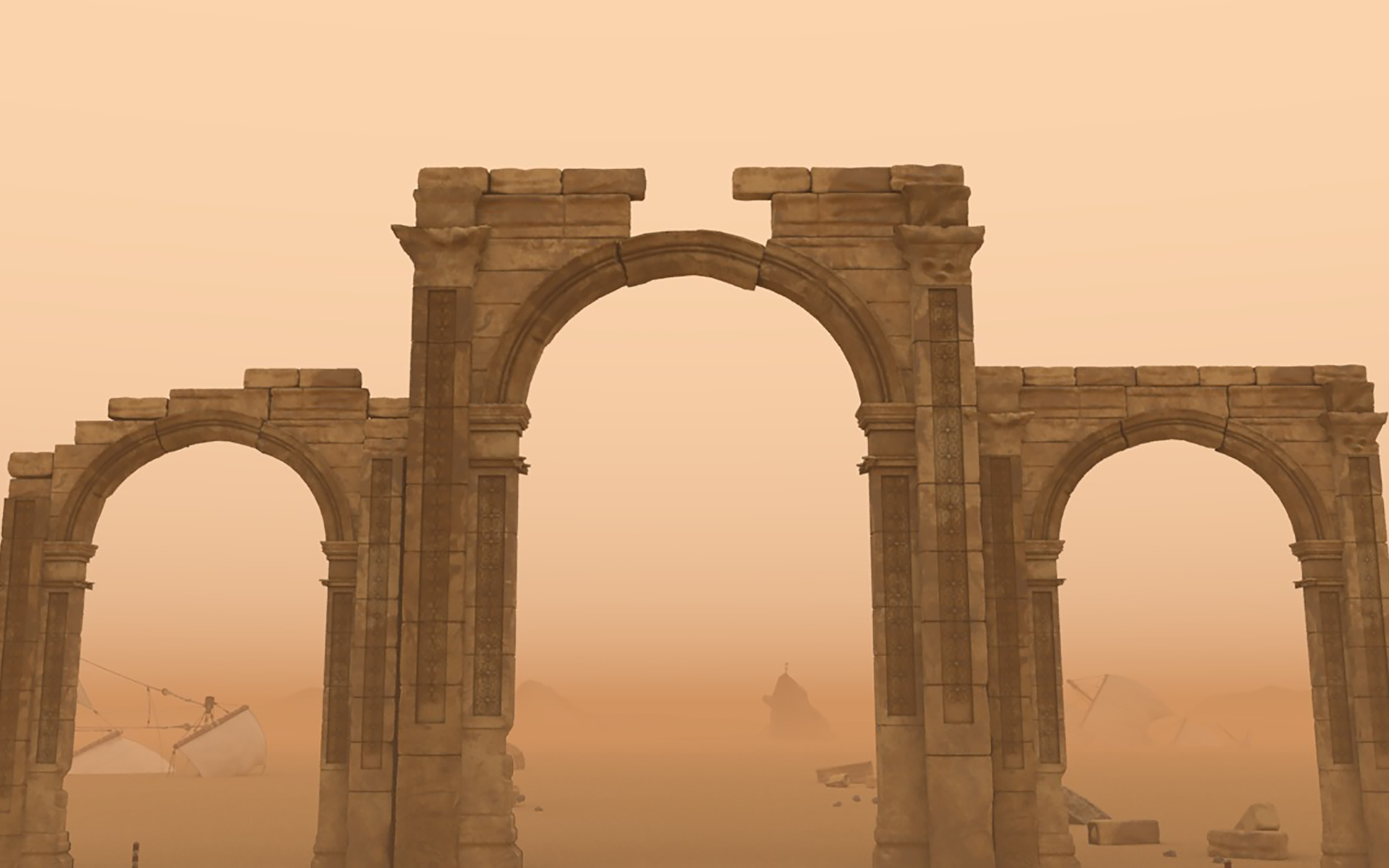 TALI KEREN:
UN-CHARTING
JUNE 4 – AUGUST 8, 2021
---
Un-Charting is a new work that engages the extensive research of artist Tali Keren. Born in Jerusalem and based in Brooklyn, NY, Keren's practice employs questions around the formation of political ideology at the intersection of personal identity and ethnonationalism. This exhibition details how myth and fantasy shaped and allowed Settler Colonialism, institutionalized violence, and Palestinian indigenous erasure in Israel-Palestine. More specifically, speaking about western Evangelicalism and how the movement has influenced the physical borders of the region.
In Un-Charting, Keren weaves historical narratives with recent interviews to engage with the imperial imagination's plan for the New World, Europe, and the Middle East. The video installation at the heart of Un-Charting presents, and is based on, the actual words of British colonial naval officer Richard Brothers, who comes to us from the year 1798, welcoming the viewer to discover his prophecy of Jerusalem. Brothers introduces the viewer to his detailed plan for the city of Jerusalem, a place he had never visited but instead created in his imagination.
This work is a platform to reflect on the processes of decolonization within a global framework—while unpacking the real-life consequences for how one understands the legacies of landscape. In Un-Charting, viewers become a part of disrupting the cartography of place-based myth.
---
The Museum of Contemporary Art Detroit is a forum for communication. The thoughts and views expressed in our exhibitions are those of the artists.
Links and resources have been collected and organized by the artist, and will continue to grow throughout the duration of the exhibition.
---
ABOUT THE FILM
Un-Charting, 2021
A film by Tali Keren
Art Director of Animation: Ayelet Shoval
Concept and Script Development: Tali Keren and Nir Shauloff
Dramaturgy: Nir Shauloff
Voice Actress: Lottie Beck Johnson
Lead Animator and 3D modeling: Ayelet Shoval
Supporting Animators: Riccardo Zagorodnev and Aviel Golan.
Production: Aviel Golan
Sound Design and Mix Engineer: Micha Gilad
Compositing: Ayelet Shoval, Omri Schick, Riccardo Zagorodnev
Special thanks to my beloved Family; Sari Keren, Andre Keren, Shlomit Keren, and Amnon Keren. To my supportive community including; Rut Patir, Hinda Weiss, Alex Strada, Rotem Linial, Jesse Lockard, Ella Gilboa, Adam Liam Rose, Shelly Silver, Itamar Cohen, Ita Segev, and Shirly Bachar.
---
ABOUT THE ARTIST
Tali Keren is a media artist and educator based in New York. Her performances, videos, and installations focus on forming ideology and political identity. Keren's recent solo exhibitions include The Great Seal at Eyebeam, New York, and the Center for Contemporary Art, Tel Aviv; and Heat Signature at Ludlow 38, MINI Goethe Institute, New York. Keren received her BFA in 2009 from the Bezalel Academy of Art and Design, Jerusalem, and earned an MFA from Columbia University, New York, in 2016. She was an artist in residence at ISCP, NARS Foundation, and BRICworkspace, New York.
---
Un-Charting is organized by the Museum of Contemporary Art Detroit and is curated by Jova Lynne, Susanne Feld Hilberry Senior Curator with the support of Pat Elifritz, Senior Manager of Media and Technology, and Zeb Smith, Director of Exhibitions and Facilities.
Image: Tali Keren, Un-Charting, 2021. HD video, installation view. Photo: Clare Gatto. Courtesy of the artist.