NEP SIDHU: PARADOX OF HARMONICS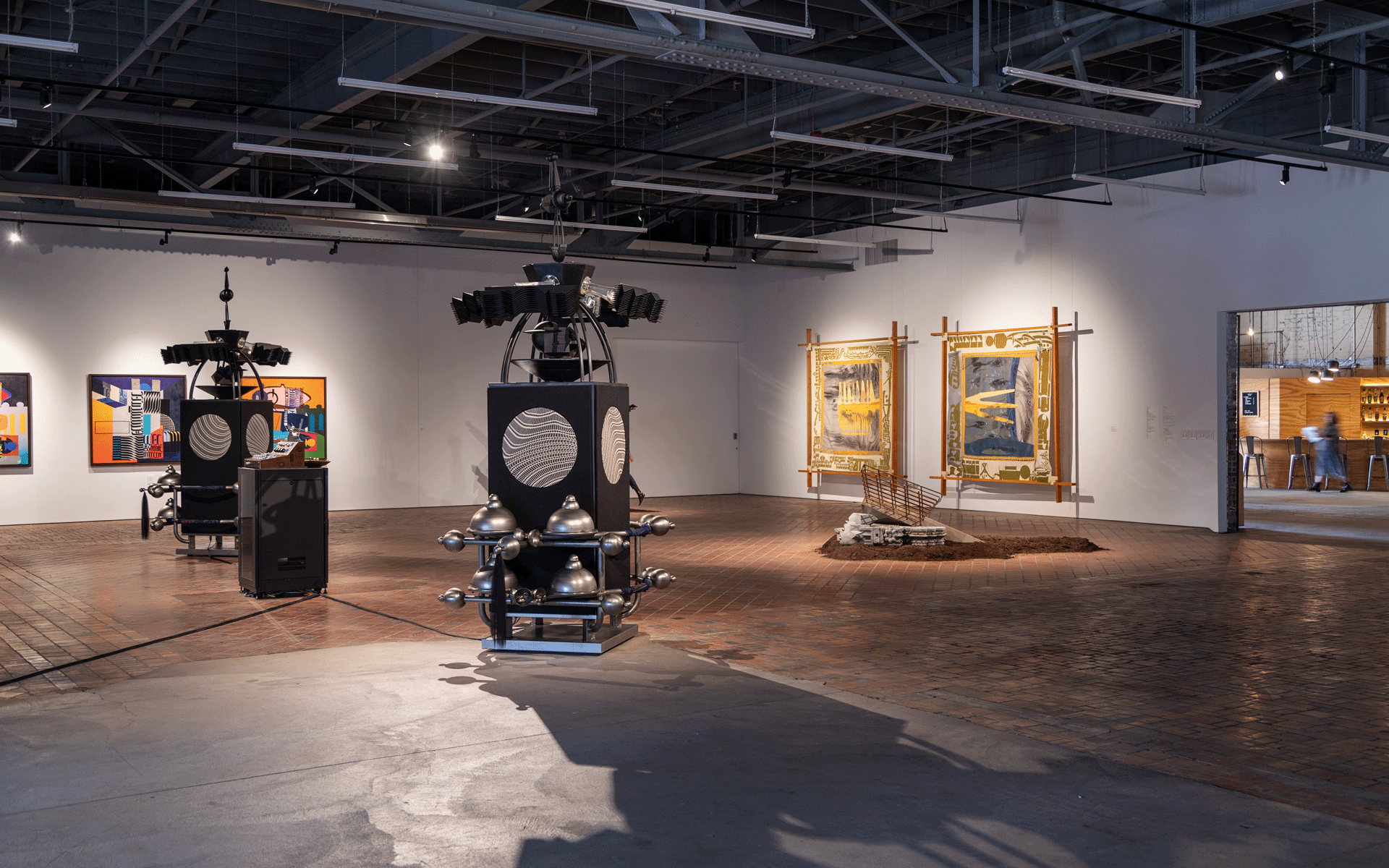 NEP SIDHU:
PARADOX OF HARMONICS
APRIL 22 – SEPTEMBER 11, 2022
---
In celebrating the global phenomena of sound as a platform for expression, MOCAD is pleased to present Paradox of Harmonics, the first U.S. solo museum exhibition of Toronto-based multidisciplinary artist Nep Sidhu. Paradox of Harmonics is driven by Sidhu's visual inquiries on communal remembrance and how sound impacts both collective and individual responses towards living knowledge production and being in the world with sound. Sidhu's practice and search are rooted in his upbringing as a Sikh, a religion where inner listening is encouraged to encounter and create unbroken sounds and melodies. As Sikhi calls for collective meditation and remembrance, Paradox of Harmonics honors these beliefs along with the sonic philosophy of musician and composer Sun Ra, whose creative legacy called for personal autonomy through communal improvisation. The works presented will include a variety of mixed media, tapestries, paintings, sculptures, and videos. In celebrating the creative legacy of Detroit's sound, Paradox of Harmonics will feature a newly commissioned work that exists as a sculptural omni-directional sound system within the exhibition. Made in conversation with Craig Huckaby, brother of the late DJ and producer Mike Huckaby, this work weaves together Mike Huckaby's Sun Ra Reel-To-Reel work with sculptural elements that engage the praxis of Black Classical Music — emphasizing an individual freedom within improvised group settings to suggest a striking harmony within one's personal making and transitioning.
Paradox of Harmonics will be presented along with a multi-part public program series titled Peoples Percussion Sessions. Peoples Percussion Sessions will provide opportunities for local musicians to engage with Sidhu's work and respond to the exhibition through musical activations.
---
Paradox of Harmonics is organized by the Museum of Contemporary Art Detroit and is curated by Jova Lynne with curatorial and exhibition support from Maceo Keeling, M.Pofahl, Zeb Smith, and Dino Valdez. This exhibition is supported by the Ford Foundation, Red Bull, the Consulate General of Canada in Detroit, and the Canada Council for the Arts.

Image: Photo by Clare Gatto.
---
PUBLIC PROGRAMS
PEOPLE'S PERCUSSION SESSIONS W/ WHODAT
FRIDAY, MAY 27, 6-8PM
PEOPLE'S PERCUSSION SESSIONS W/ DEON JAMAR
FRIDAY, JUNE 17, 6-8PM