DAMON DAVIS: FILLING IN THE CRACKS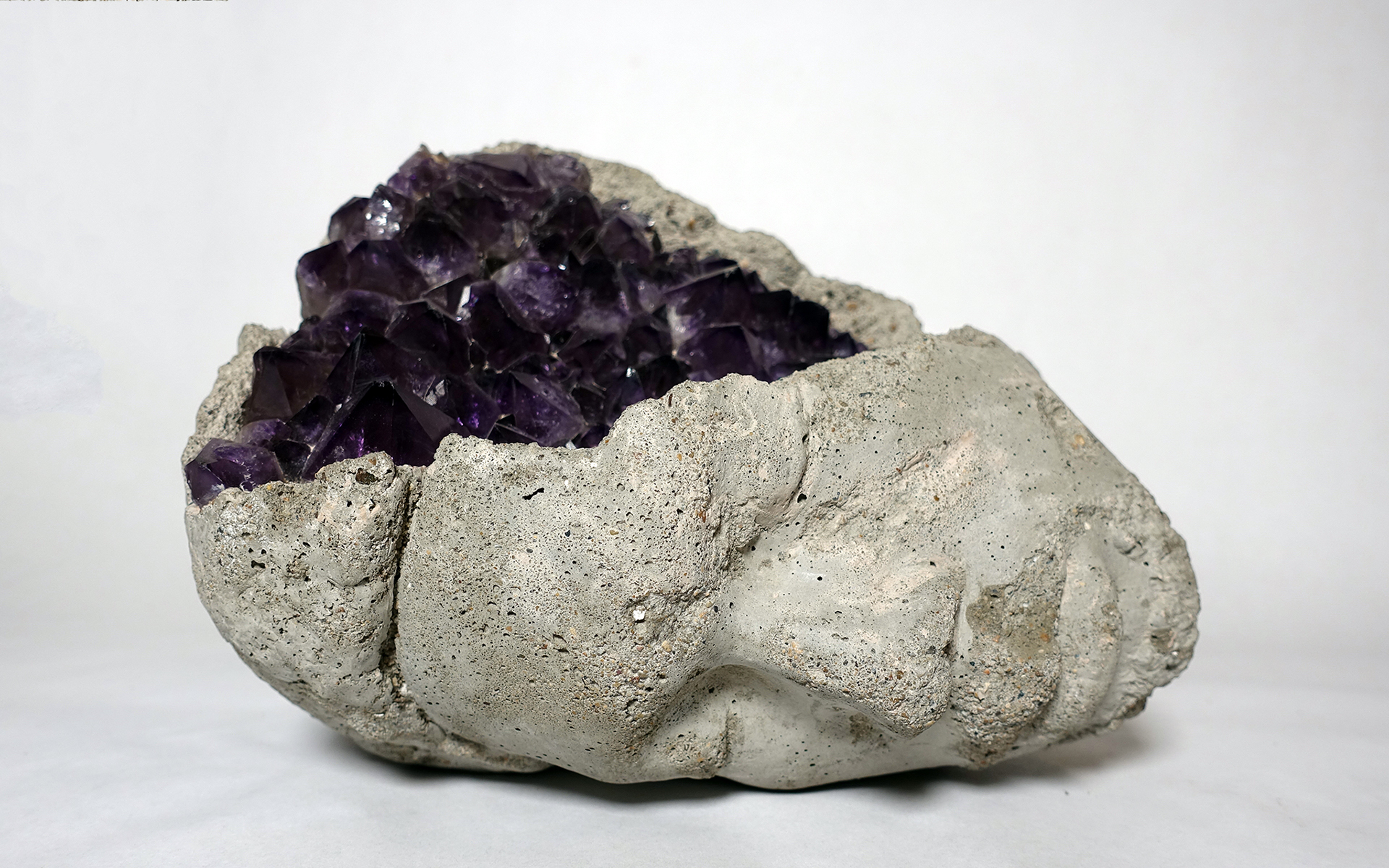 DAMON DAVIS:
FILLING IN THE CRACKS
JUNE 4 – AUGUST 8, 2021
---
East St. Louis-born post-disciplinary artist Damon Davis presents sculptural and image-based works that are an investigation of masculinity, grief, and trauma. First exhibited at Grinnell College Museum of Art, the concrete busts from the series Cracks express his explorations around loss and pain. The works in this exhibition bring growth into the conversation to support the integration of self-compassion and resilience. Davis's culmination of this is "narrative therapy" that moves beyond hardship to visioning, healing, and imagining new ways of being.
Davis' work extols much about embracing flaws and imperfections; like the Japanese practice of Kintsugi, treating brokenness with care can yield something more substantial and more beautiful than what existed before. When the interiority of this harrowing experience is exposed, an opportunity for transformation reveals. It is from here that healing can begin.
A theme emerges throughout the works that reveal the possibility of developing perceptual agency, a phrase created by Harvard ethnomusicologist Ingrid Monson, described as a conscious focusing of sensory attention that can yield different experiences of the same event. In this case, Davis' work guides our attention to the exposure of beauty through vulnerability and allows us to see ourselves whole despite being made cavernous by trauma.
Through the use of concrete – symbolic of the hardness of Black life –Davis' practice suggests that however resilient it may be, masculinity is not without kinks, vulnerability, and abrasion. Along with the sculptures, color prints of the artist's digital works, Darker Gods, are on view at MOCAD, part of a series shown concurrently with an exhibition at Betti Ono Gallery in Oakland, CA.
---
ABOUT THE ARTIST
Damon Davis is an award-winning, post-disciplinary artist who works and resides in St. Louis, Missouri. Davis seeks to empower and give voice to the powerless and combat systems of oppression, focusing not only on pain but also on the joy of the Black experience. In a practice that is part therapy, part social commentary, his work spans a spectrum of creative mediums to tell stories exploring how identity is informed by power and mythology. Davis' work is held in the permanent collection of the Smithsonian's National Museum of African American History and Culture, and he has exhibited at the Museum of Contemporary African Diasporan Arts and the San Diego Contemporary Museum of Art.
---
Filling In The Cracks is organized by the Museum of Contemporary Art Detroit and curated by Maceo Keeling, MOCAD Curatorial Fellow. MOCAD's curatorial fellowship program and related exhibitions and programs are supported by the Ford Foundation.
Image: Damon Davis, Cracks II, 2020. Concrete and quartz amethyst geode. Courtesy of the artist.