JAN TICHY: ALL MONSTERS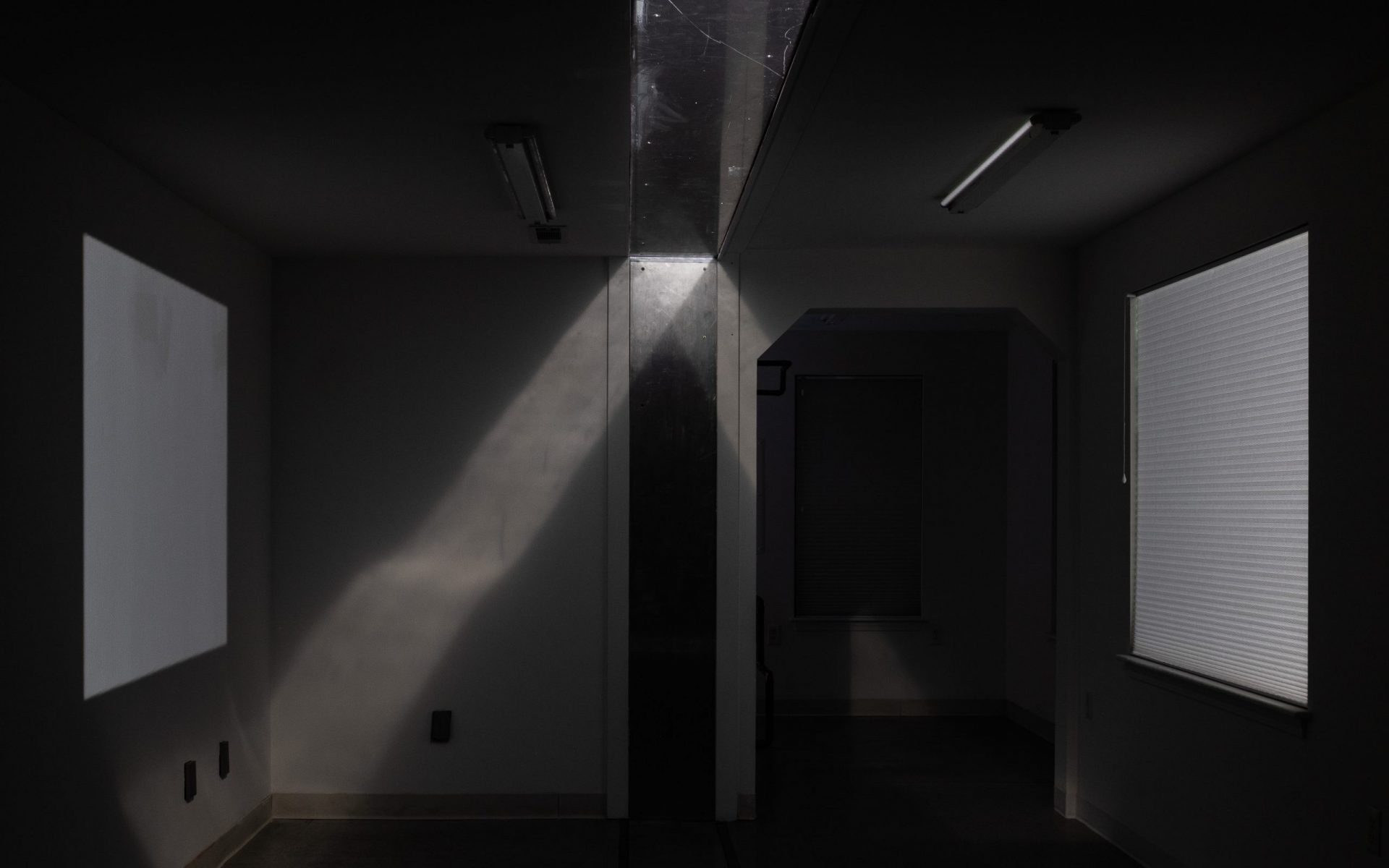 Jan Tichy:
All Monsters
OCTOBER 28, 2021 – JANUARY 23, 2022
MIKE KELLEY'S MOBILE HOMESTEAD
---
All Monsters takes Mike Kelley's Mobile Homestead, the art work and community-serving space, as its foundational premise. This site-specific installation by Jan Tichy amplifies the social, institutional, and environmental relationships of the house.
Outside, Tichy's three mirrored interventions align with the entry points to the house—the two front doors and the hatch leading to the basement below. The house's windows, darkened, create black mirror illusions. Inside, the house becomes a third subterranean layer, extending the basement upward. Within the garage is Tichy's Installation no. 6 (2009). In this work light rays rip and crackle beneath a series of paper tubes. Amplifying the coil noise of light produced through a cathode ray tube television, animated distortions move across the screen, indexing the cityscape around the house. As the human eye adjusts to the darkened conditions, light waves enter and the interior of the house begins to glow.
Copper pipes, first used in Tichy's Beyond Streaming: A Sound Mural for Flint (2016) and Sound Mural for Detroit (2019), are rematerialized here for Installation no. 37 (2021). Developed in close partnership with Pippin Lapish and Chase Wade, of MOCAD's Teen Council, these infrastructural sculptures snake through the galleries and serve as conduits for their voices. Through staccato statements and poetic lyricism, Lapish and Wade evoke the entangled histories of the house, site, and city. Ambient sounds further explore the urban and suburban ideas Kelley initiated in Educational Complex. Trauma, and its many interpretations, is explored through kinship, soil, artifacts, and identity.
---
RELATED PROGRAMS
All Monsters, specifically refers to the ways in which we each carry our traumas; failing, as Kelley's band's name suggests, to destroy them. Tichy's exhibition instigates a series of teen-oriented programs that foster a deeper understanding of the land and infrastructure connected to Mike Kelley's Mobile Homestead, as well as the larger Museum's site. The histories of Detroit's many eras are captured through archaeological explorations.
AUG 14-22, 2021
A series of workshops with Detroit literary arts organization InsideOut supported Pippin Lapish and Chase Wade in the production of their poems. Lapish and Wade hope to foster deeper connections with MOCAD's past, present, and future Teen Council members by developing manifestos and written works that capture their experiences and pass their stories down to the cohorts yet to come.
NOV 13, 2021
An archaeological dig unearths compacted soils that bear evidence of a women's prison, located just behind the house, the greenhouse gardens of a widow living just in front of the house, and clay soils index underground rivers. Notably absent from the excavated evidence is the era of white flight, which marked Detroit's decline as an urban center. The house, appropriating Kelley's childhood home, demarcates this chapter in the earth. Archaeologists Dr. Krysta Ryzewski and Dr. Rebecca Graff will unearth artifacts from these histories and, with Tichy and youth from around Detroit and MOCAD's Teen Council, will develop new artistic interpretations of found objects.
---
Jan Tichy: All Monsters is curated by Tizziana Baldenebro with support from the Museum of Contemporary Art Detroit. Parts of this exhibition are produced in partnership with and poet and InsideOut alum, Aja Allante and poet and educator Brittany Rogers of InsideOut, as well as Krysta Ryzewski, Department Chair and Associate Professor of Anthropology, RPA, Wayne State University, Detroit and Rebecca Graff, Associate Professor of Anthropology, Lake Forest College. Additional support for Jan Tichy: All Monsters is provided by Artis.
Image: Jan Tichy, 2021. Courtesy of the artist.