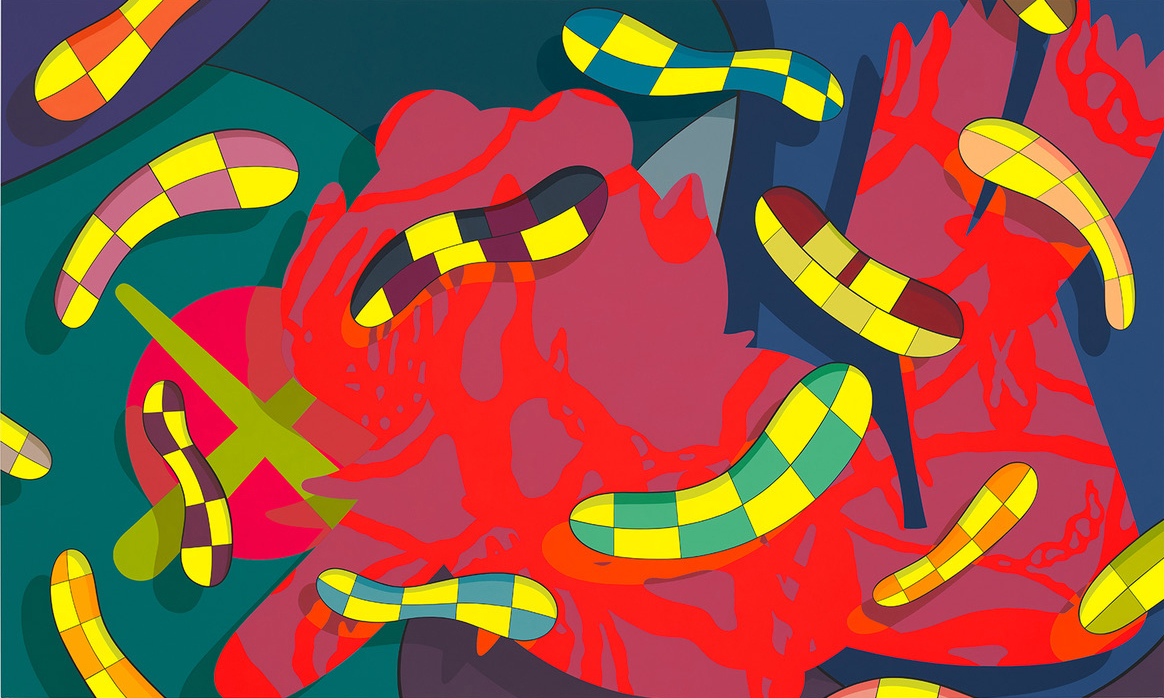 ↑ KAWS, ALONE AGAIN (2016). Acrylic on canvas, 72 x 120 in. Photo: Farzad Owrang
KAWS: ALONE AGAIN is a solo exhibition of the Brooklyn-based artist KAWS (American, born 1974), organized by the Museum of Contemporary Art Detroit's Executive Director Elysia Borowy-Reeder in close collaboration with the artist. Featuring five sculptures, a site specific wall work, and three paintings, this highly anticipated exhibition will occupy the main exhibition space of the museum. ALONE AGAIN will showcase the artist's masterful compositions that appear to be abstract while retaining the artist's colorful acrylic palette with his trademark motif. Riffing on specific genres of pop art, figuration, deconstruction, collage, and fashion, the exhibition represents an underlying irreverence and affection for our turbulent times, as well as KAWS' agility as an artist to appropriate and transform.
KAWS: ALONE AGAIN is organized by the Museum of Contemporary Art Detroit (MOCAD). Exhibitions and public programs at MOCAD are supported by the A. Alfred Taubman Foundation. Support for KAWS: ALONE AGAIN is provided by Library Street Collective. Additional support for MOCAD's Summer 2019 exhibitions is provided by Grant B + James Locke, Abby Bayliss, Kunal Bhathija, Esq., Carl Cashman, Hoang Dinh, Mai Dinh, Henry Elphick, Akilah Ensley, Jason Feldman, Aedam Glauer, Alexa Gray, Guenther Holzhammer, David Humphries, Nam Huynh, Stephan Johnson, Adam Kandel, Mike Kitchen, Tommy Lau, Jonathan Patrick Meagher, Sean Moroney, Elie Neufeld, Chris + Danielle Pallaris, Perrotin Gallery, Joseph Pizzo, Sarah Christine Pollard, Raphyki Raphyki, Darren Sadok, Hamid Sarhdaoui, Nikita Sarkas, Shawn Smith, Mark Stanton, Shahin Tabassi, Timothy Taylor, and Jonathan Wilkinson.