Mike Kelley's Mobile Homestead
TOM HOUSE: The Work and Life of Tom of Finland
On view April 19–May 27, 2018*
This exhibition is only available during the Mike Kelley Mobile Homestead hours
Wed/Sat/Sun: 11AM–5PM
Thurs/Fri: 11AM–8PM
This exhibition and associated public programs deal with mature themes. Adults visiting with youth must preview before entering exhibition or program. *MOCAD has extended the length of this exhibition.
In collaboration with Tom of Finland Foundation, Mike Kelley's Mobile Homestead will realize TOM House: The Work and Life of Tom of Finland. The exhibition will feature work by Tom of Finland (Touko Laaksonen, Finnish, 1920-1991) and incorporate artists who supported and admired his work over the years, including Richard Hawkins, Robert Mapplethorpe, Raymond Pettibon, Jim Shaw, and John Waters. The presentation will also include photographs, reference materials, and ephemera.
Tom of Finland's drawings – remarkable not only for their masterful rendering, but also their fantastical representation of the male form – have been long celebrated for their radical role in broadening the popular understanding of Queer experience in art. Placed in context with his peers, the assemblage of these artworks engages a sensational narrative, one that helped define a generation.
Tom spent the last decade of his life between Finland and TOM House in Echo Park, Los Angeles, California. The exhibition will evoke the spirit of the home where Tom had his studio and lived during his final years. Tom spent his career challenging the boundaries of art and social engagement, be it through his craft or thematic pursuits.
The Mike Kelley Mobile Homestead is commissioned by Artangel in association with MOCAD, LUMA Foundation and Mike Kelley Foundation for the Arts with the generous support of the Artangel International Circle. Support for the Mike Kelley Mobile Homestead is provided by the Mike Kelley Foundation for the Arts.
Presenting sponsorship for TOM House: The Work and Life of Tom of Finland is provided by Equality Michigan. Generous support is provided by Anonymous, Christopher Burcham, David Kordansky Gallery–Los Angeles, Gretchen + Ethan Davidson, Doc Duhan, Nicole + Stephen Eisenberg, Sid Galton, Stephen Krawchuk, Jeff + Loren Gillis Newsom, Rob Hennig, CV Henriette, Colt Mix, Brien O'Brien, Daniel Parente, Stefano Pilati, Print Cache, Red Bull, Michael Reynolds, Rizzoli International Publications, Mayer Rus, the Shipley-Miller Foundation, Takoi, Ben White Levin, and Jon Wright. Generous in-kind support provided by Pabst Blue Ribbon.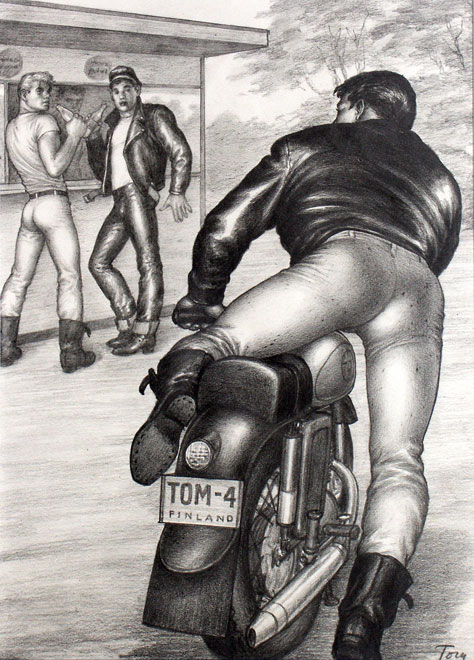 Tom of Finland (Touko Laaksonen), Untitled (from Motorcycle Thief series), 1964, graphite on paper, 12.88"x 8.25", Tom of Finland Foundation Permanent Collection, ©1964.
ABOUT THE TOM OF FINLAND FOUNDATION
In 1984, the nonprofit Tom of Finland Foundation was established by Durk Dehner (Canadian, 1949- ) and his friend Tom of Finland (Touko Laaksonen, Finnish, 1920-1991). As Tom established worldwide recognition as the master of homo-erotic art, the Foundation's original purpose was to preserve his vast catalog of work. Several years later the mission broadened to offer a safe haven for all erotic art in response to rampant discrimination against art that portrayed sexual behavior or generated a sexual response. Today the Foundation continues its efforts of educating the public on the cultural merits of erotic art and in promoting healthier, progressive attitudes about sexuality.