The MOCAD Teen Council is the collective voices of young leaders and acts as a platform for inspiration and empowerment of youth in metro Detroit. Teen Council members are change makers within the city and state by reinforcing MOCAD's mission through a variety of involvement, including: teen nights, workshops, Family Day, and the ESB/SKS Junior Docent program. Teen Council members plan and lead community outreach events for teens throughout the city, contributing to MOCAD social media promotion and becoming vanguards within their community. The Teen Council meets weekly and communicates throughout the year to plan and work on its initiatives and events. Members of the Teen Council participate in activities including college tours, financial workshops, portfolio reviews, and museum and gallery visits to prepare for a post secondary school experience and foster professional development.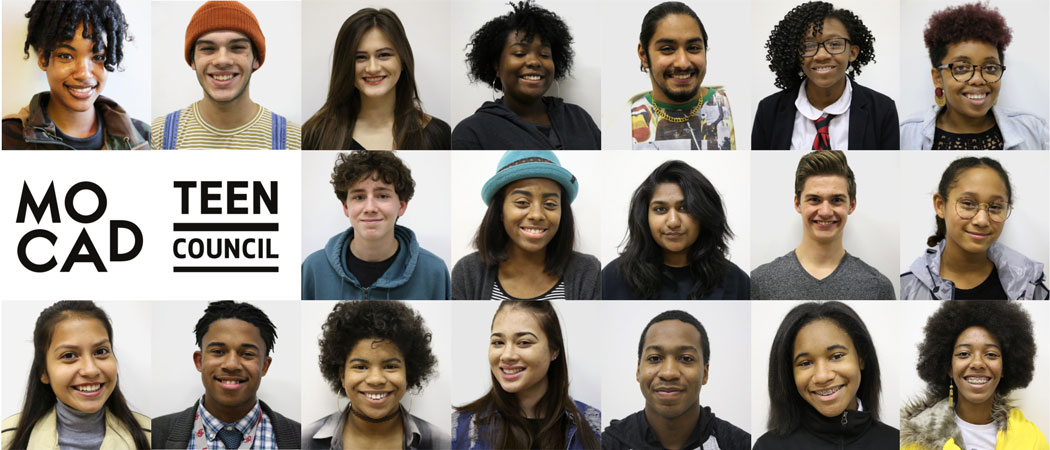 2BRAVE2LIE: Letterpress Printing for Teens with Amos Paul Kennedy, Jr.
PART I: SATURDAY,JANUARY 11, 11AM-3PM
Learn the basics of letterpress from design to layout to print.
PART II: SATURDAY, JANUARY 25, 11AM-3PM
Create thoughtful creative messages of truth to print and share.
ADMISSION: FREE WITH REGISTRATION
FOR YOUTH AGES 13-18
Space is limited to 20 participants
Pre-registration is required: here.
Explore letterpress printing from inspirational teaching artist Amos Paul Kennedy, Jr. in an intimate class environment at MOCAD.
In the two-part workshop series, we'll create-text based images that provoke questions, inspire thoughtfulness, and incite conversation around relevant youth topics, including identity. In Part 1, students learn the basics of letterpress printing, from layout of letter blocks to printing, while Part 2 emphasizes experimentation with basic
letterpress techniques to create original works.
This two-part printmaking workshop is open to teens, with options for first-time students through more advanced student artists. Tasty snacks provided.
For more information, please contact MOCAD Youth Program Producer, Erin Martinez at emartinez@mocadetroit.org or call (313) 832-6622.
MOCAD Youth Programs are supported by the Applebaum Family Compass Fund, the Mandell and Madeleine Berman Foundation, the Vera and Joseph Dresner Foundation, the Michigan Council for Arts and Cultural Affairs, the Edith S. Briskin/Shirley K. Schlafer Foundation, Plum Market, and Heart of Neiman Marcus.
TEEN NIGHT: FIND YOURSELF FRIDAY
FRIDAY, FEBRUARY 7, 6pm-10pm
Free for ages 12-18
These events are entirely teen driven, empowering youth and giving teens the responsibility to offer enrichment activities for their peers. MOCAD provides the space for teens to make decisions and work together in a group. Teens also developed life, logic and reasoning skills by figuring out what is most engaging for their peers, developing a budget, executing the plans and reflecting on the completed events. Teen nights also make MOCAD an evening activity and destination spot for youth. Teens view MOCAD as a place in the community where fun things are happening for them. Teen nights are weekend activities so teens can have a safe, engaging time with their friends while participating in educational and literacy based activities.
Symbolic Self: Self-Portrait Drawing for Teens with Rashaun Rucker
SATURDAY, FEBRUARY 8
& SATURDAY, FEBRUARY 22, 11am – 3pm
ADMISSION: FREE WITH REGISTRATION
FOR YOUTH AGES 13-18
Pre-registration is required: CLICK HERE
For our February Teen Open Studio workshops, we're exploring the power of symbolic self-portraiture.  This workshop series emphasizes the development of original concepts for representing the self in drawing, with less focus on technique, and more on the creation of interesting symbolism.  Sign up early to save your seat for this amazing workshops series with Kresge award-winning artist, Rashaun Rucker, as he helps teen artists learn to dig deep and reveal hidden pieces of themselves through drawing. Mature 8th graders encouraged to apply.

Hip Hop Architecture Camp™ comes to MOCAD

D-Artist Studio: Tiff Massey

D-Artist Studio: Scott Hocking