The MOCAD Teen Council is the collective voices of young leaders and acts as a platform for inspiration and empowerment of youth in metro Detroit. Teen Council members are change makers within the city and state by reinforcing MOCAD's mission through a variety of involvement, including: teen nights, workshops, Family Day, and the ESB/SKS Junior Docent program. Teen Council members plan and lead community outreach events for teens throughout the city, contributing to MOCAD social media promotion and becoming vanguards within their community. The Teen Council meets weekly and communicates throughout the year to plan and work on its initiatives and events. Members of the Teen Council participate in activities including college tours, financial workshops, portfolio reviews, and museum and gallery visits to prepare for a post secondary school experience and foster professional development.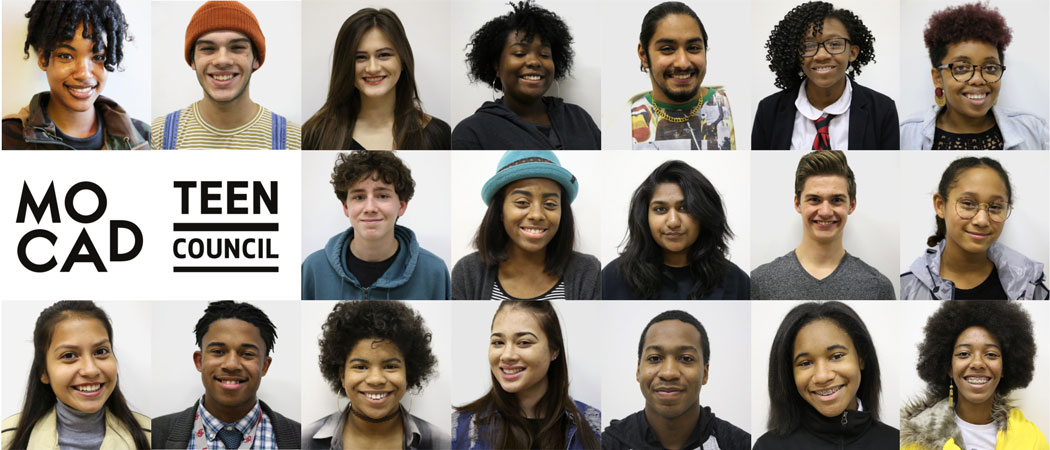 TEEN COUNCIL
ACCEPTING APPLICATIONS
What time is it? It's MOCAD Teen Council time!
Are you a creative teen, 14-18 years old? Do you want to propose, plan, and co-produce fun, major events for your peers and the community? Are you interested in gaining valuable employment skills working at a major museum? Do you want to meet world-renowned artists and learn more about the power of contemporary art to change society? If you answered 'yes' to any of the above, you should apply to be part of MOCAD's Teen Council!
Visit our website at www.mocadetroit.org/teen-council-apply to download the application or pick one up at MOCAD. Fill out the application and follow the instructions to return it by Saturday, September 21, 2019!
Call MOCAD Youth Program Producer, Erin Martinez at 313.832.6622 or email at emartinez@mocadetroit.org for more information. We look forward to receiving your application!
CLICK HERE for the application!
YOUTH PROGRAMS

Hip Hop Architecture Camp™ comes to MOCAD

D-Artist Studio: Tiff Massey

D-Artist Studio: Scott Hocking