The MOCAD Teen Council is the collective voices of young leaders and acts as a platform for inspiration and empowerment of youth in metro Detroit. Teen Council members are change makers within the city and state by reinforcing MOCAD's mission through a variety of involvement, including: teen nights, workshops, Family Day, and the ESB/SKS Junior Docent program. Teen Council members plan and lead community outreach events for teens throughout the city, contributing to MOCAD social media promotion and becoming vanguards within their community. The Teen Council meets weekly and communicates throughout the year to plan and work on its initiatives and events. Members of the Teen Council participate in activities including college tours, financial workshops, portfolio reviews, and museum and gallery visits to prepare for a post secondary school experience and foster professional development.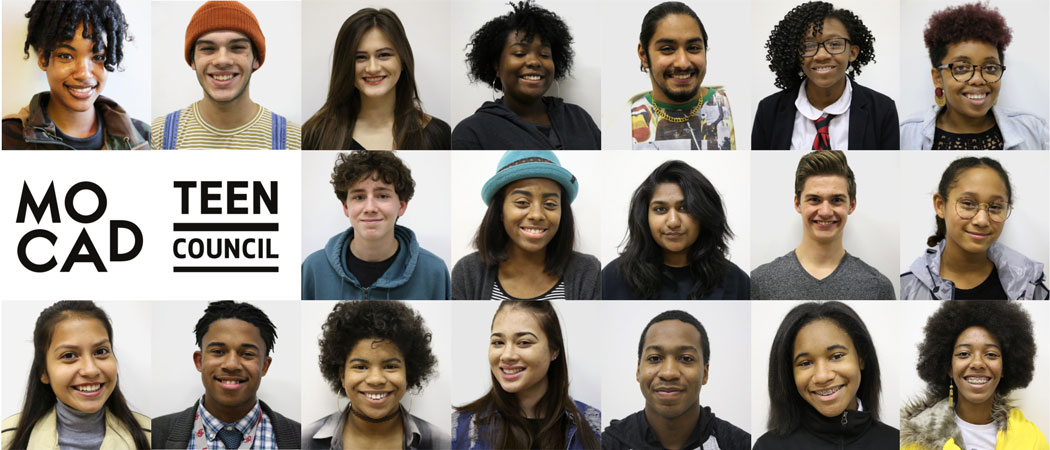 KAWS EFFECTS:
CHARACTER DESIGN
July 15–26, 2019
8:30 AM–4 PM*
(excluding Saturday, July 20 and Sunday July 21)

MOCAD DUAL/FAMILY MEMBERS:
$710/CHILD FOR TWO WEEKS
NON-MEMBERS: $790/CHILD FOR TWO WEEKS
$25 discount for each additional sibling.
AGES: 11-14
Registration is limited to 15 students.
$50 reservation fee due at time of pre-registration.
Pre-registration and full payment due by Friday, May 17, 2019.
*Before- and after-care available 7:30–8:30am and 4-6pm
For two fantastic, high energy weeks in the summer, artistically driven Detroit area middle school students interact with the work of KAWS, to design and create their own characters!  KAWS is one of the most influential artists of his generation. Led by teaching artists experienced in illustration and product design, camp begins with youth touring and interpreting KAWS' work on display at MOCAD.  Drawing inspiration from these works, youth design characters based on themselves, utilizing basic illustration techniques.
Later, those illustrations come to life as youth translate their 2-D drawings into 3-D forms, using a variety of materials.  Aside from working with positive teaching artists, campers will play games, enjoy outdoor activities, and make new friends during this exciting midsummer fun experience at MOCAD. Scholarships are available. All meals and snacks provided free of additional charge. 
Image: KAWS, FINAL DAYS (2014).

Hip Hop Architecture Camp™ comes to MOCAD

D-Artist Studio: Tiff Massey

D-Artist Studio: Scott Hocking