The MOCAD Teen Council is the collective voices of young leaders and acts as a platform for inspiration and empowerment of youth in metro Detroit. Teen Council members are change makers within the city and state by reinforcing MOCAD's mission through a variety of involvement, including: teen nights, workshops, Family Day, and the ESB/SKS Junior Docent program. Teen Council members plan and lead community outreach events for teens throughout the city, contributing to MOCAD social media promotion and becoming vanguards within their community. The Teen Council meets weekly and communicates throughout the year to plan and work on its initiatives and events. Members of the Teen Council participate in activities including college tours, financial workshops, portfolio reviews, and museum and gallery visits to prepare for a post secondary school experience and foster professional development.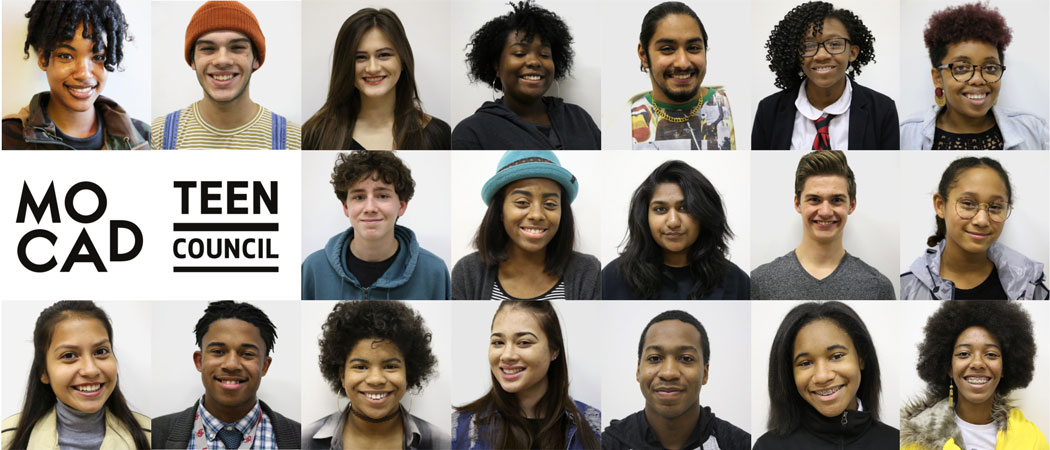 YOUTH PROGRAMS
Screenprinting and Social Messaging for Teens
PART I: Saturday, November 9, 11am-1pm @ OCELOT Print Shop
PART II: Saturday, November 23, 11am-3pm @ MOCAD
Admission: Free with registration for youth ages 13-19
Space is limited to 15 participants
Pre-registration is required at, CLICK HERE to register.
Teens have so much revolutionary brilliance to share with the world, and often do so through internet-based social media. But what about that old-school social media? We're talking about using stencils, silkscreens, and ink to create bold and impactful flyers, protest signs, and art! In this 2-part workshop series, teens will learn to use silkscreens to make multiples of their old-school text messages, expanding the potential to reach multitudes with their brilliance!
PART I
In Part I, participants will learn the basics of screenprinting from the master screen printers at Ocelot Print Shop. Participants will meet at Ocelot Print Shop at 3535 Cass, Detroit, MI 48201(follow signs to enter).
PART II
In Part II, participants will learn how to use stencils to create text and pattern, and layer them to produce big, bold flyers, signs, and fine art works. Participants will meet at MOCAD for this session.
CLICK HERE to download
YOUTH PROGRAMS: CHARACTER COUNTS
MOCAD's 2019 EDUCATIONAL REPORT

Hip Hop Architecture Camp™ comes to MOCAD

D-Artist Studio: Tiff Massey

D-Artist Studio: Scott Hocking