PUNK HOUSE
September 8, 2017–January 7, 2018
Curated by Cary Loren, a founding member of the influential Michigan-based band and artist collective Destroy All Monsters, Punk House is a companion exhibition to Sonic Rebellion: Music as Resistance that highlights the music, art, and activism of the Detroit punk, experimental sound and art scene from the1970s to present day. The exhibition features posters, flyers, zines, and records presenting the many influences that drove artistic and counterculture expression in Detroit. Interior murals of Punk House will be created by London, UK based artist Savage Pencil (Edwin Pouncey) and a new site-specific installation will be made by Detroit-based artist Jimbo Easter (James J. Millross). This exhibition is accompanied by a limited-edition LP by Third Man Pressing and a limited-edition graphic zine with a DVD of live performance footage. Covers for both are designed by Savage Pencil. Through installation, video, music, and ephemera, Punk House aims to situate the role of "punk" within the broader theme of cultural resistance.
Punk House participants include:
Aaron Dilloway, ADULT. (Nicola Kuperus and Adam Lee Miller), Cannibal (Cameron Jamie, Cary Loren and Dennis Tyfus), Cinecyde (Gary Reichel), Mark Thomas Dancey, Destroy All Monsters (Mike Kelley, Cary Loren, Jim Shaw), Michael Dykehouse, Half Japanese (David and Jad Fair), Timmy Vulgar, Jimbo Easter (James J. Millross), Pod Blotz (Suzy Poling), Cotton Museum (Chris Pottinger),  Savage Pencil (Edwin Pouncey), Outrageous Cherry (Matthew Smith), Rotland Press (Ryan Standfest), Thomas Carey, Time Stereo (Davin Brainard, Warren Defever), Wolf Eyes (John Olson and Nate Young), Sue Rynski, Jonnie Prey, Zoots Coffee House (Aaron Anderson), Jarrett Koral (Jett Plastic Recordings), Mark Dancey (Motor Booty), Jerry Vile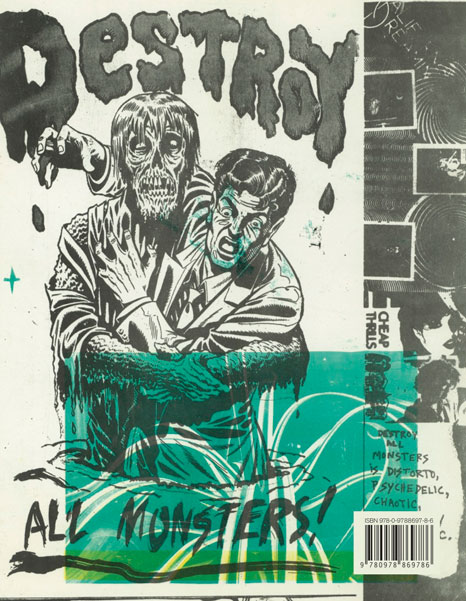 Punk House is organized by the Museum of Contemporary Art Detroit and curated by Cary Loren, with additional curatorial support from MOCAD Ford Curatorial Fellow Scott Campbell and Curator of Education and Public Engagement Amy Corle.