Things
from Home: A Studio Visit with Alberte Tranberg
by Jova Lynne
When I moved to Detroit one of the first things I noticed was the majestic architecture of neighborhood homes. I drive around town and imagine what the interiors of these homes and the objects that live in them look like. Growing up in New York City, home was transient for me. I moved from place to place with familial objects constantly going in and out of boxes, frequently getting lost. On these drives, I often wonder if it is the interior of a building that facilitates an experience of home or the objects that exist within it? In the essay "Kissing Architecture", Scholar and Architect Sylvia Lavin addresses the function of the interior as "quasi-autonomous, it relies on and is even often isomorphic with architecture but remains distinct from architecture's identification with building. As a result, the interior is uniquely free to seek out provisionality, changefulness, and to provide architecture with a site of experimentation". The notion of interior as a site of ubiquitous intimacy is one that Detroit area artist, Alberte Tranberg is grappling with.
Hard. Cold. Grey. Steel-collateral from architectural infrastructure acts as the primary material Tranberg utilizes in her practice. Born and raised in Copenhagen, Denmark Tranberg was trained as an industrial metal-worker, turning an internship at a female run blacksmithing shop into a lifelong career path. Tranbergs work as a maker exists as a series objects that communicate across the boundaries of sculpture, art-object and design. "With the industrial nature of my background I've been schooled in process efficiency and repetition of workflows as a daily working of life that definitely informs my practice" says Tranberg as we begin our conversation in her studio. I am aware of the curation of Tranbergs space, and am surrounded by an array of metal objects, and books that reference the home, architecture, sculpture and design. She is currently working on a selection of art-objects that she calls Things, pieces that act as language to interrogate the absurdity of practical home design.
These Things, are plays on structures that define "home" as dwelling such as a window, table, photograph or flooring. "What I'm making is referring to a function, and to their placement as we know it or interact with it–the Things exist in a place in between being functional and decorative" says Tranberg while showing me a photograph of a piece that I want to identify as shelf or bookcase. "You might know this object as a shelf but in the way I have made it, the design is off-it's like adding something that is a little ridiculous to my pieces." Initially, one might consider the contradiction in functionality of an object–as a prank orchestrated by the artist. But as our conversation continues I stray from humor, finding the pieces to be tender sites for reflection. Moving to Michigan has taken Tranberg far away from family and the house she grew up in designed by her father, a Danish Architect. Given the artists displacement from her native home and culture, Things act as interventions or installations that assert an expression of belonging wherever they go.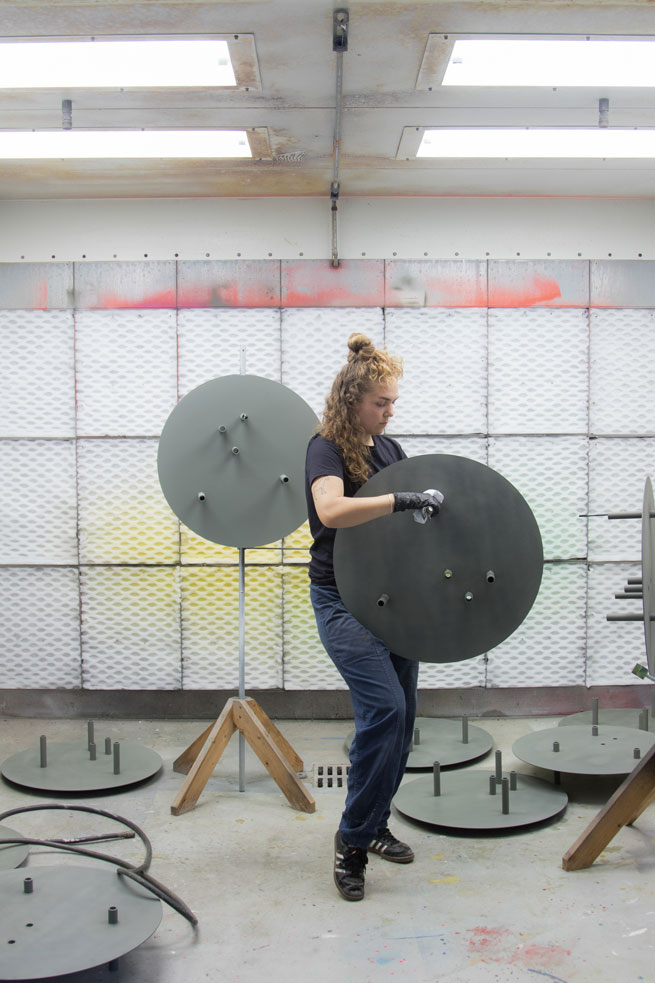 As objects, Things are informed by the pre-existing rules of design and pieces of metal sourced from Pontiac Steel along with donated industrial scraps. Tranberg treats steel as though it were graphite pencil. Her pieces are blueprints or drawings for home interiors that exist independently from a singular architectural structure. The process of drawing alludes to softness and yet steel is an incredibly firm material–adding a layer of juxtaposition to Tranbergs work. "The way I weld, fold and forge can be very violent because there is a huge amount of force that is put into the steel. It is the amount of care and the fragility of the way things are put together makes the pieces intimate" says Tranberg, speaking to the tension between the intimate and the violent conveyed in the work Portraits. Portraits is a series of rectangular objects designed to reference the traditional framed photograph or drawing that one might find in a familial household. However, there is no actual portrait image-the body is a mere suggestion created through a pushing of material following holes in the pieces that appear forced out by hand.
The pushing of metal is repeated in the piece Tiles, a series of half inch metal squares that mimic a bathroom or kitchen floor, a place familiarity-but something is off. In one of the squares is a form that Tranberg refers to as a nipple, a delicate gesture that reflects the impossibility of a body becoming a part of a structure. In Tiles, there is tension between the body and industry that both taunts and temps the viewer. I return to themes within the Lavin essay as Tranberg reflects on the use metal as signifier for the home, "when contact between surfaces is deployed to conjure an interior ambience that is not architecture, but just millimeters shy of architecture proper, the psychologically intimate and physiologically momentary nature of the interior surprises a stolid and solid architecture as if with a kiss." In these bodily moments Tranberg creates within the Portrait and Tiles series, the "kiss" or intimacy is implied through the surprise of failure in imperfection–a loss of control and the joining of several objects into one piece to form a home. The softness in the surprise is a vast shift from the utiltilitaran-esque methodology of creating that Tranberg employs in her artistic process.
Nibbling on a plate of carefully selected snacks, I take a final look around Tranberg's studio and reflect on the spaces between intimacy, home and mechanical processes. My eyes fall on a piece titled Window, a "thing" that reminds me of a set of blinds, but its size and interaction with the ground suggests longing or loss. Rather than allowing the viewer to see through the "blinds", Tranberg has put a metal backing on the piece–I am left without an exit point. Unlike the other objects in Things this piece reads as a letter in an alphabet–a pause in play where the prank becomes obvious. I am aware that there is nothing I can do to "fix" the frustration I have with an object not functioning in a way that I am familiar with, and I find satisfaction in the pieces futility. With works having been shown at Simone DeSousa Gallery in collaboration with artist and mentor Iris Eichenberg (BERG + BERG), Detroit Artist Market and more recently at the well-known hub for contemporary arts Kunsthal Charlottenborg in Copenhagen, I look forward to seeing what taunts and temptations Tranberg has for us next.