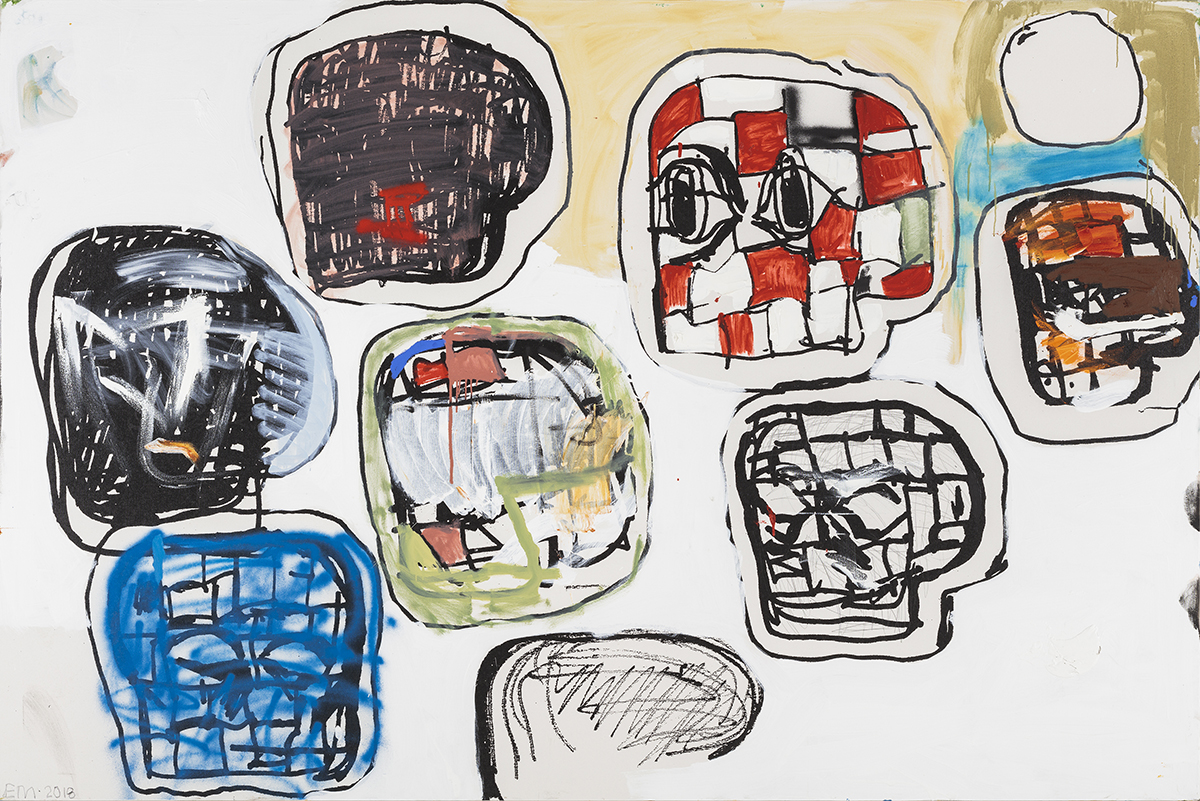 ↑ Eddie Martinez, Time Takes (2018). Oil paint, silkscreen, gesso, spray paint, and pencil, 72 x 108 in. Photo: Stan Narten/JSP Art Photography.
EDDIE MARTINEZ:
FAST EDDIE
Eddie Martinez: Fast Eddie is a solo exhibition of the Brooklyn-based artist Eddie Martinez (American, born 1977), organized by Museum of Contemporary Art Detroit executive director Elysia Borowy-Reeder in close collaboration with the artist. Featuring over 17 new paintings, this solo exhibition will occupy two gallery spaces showcasing never-before-seen paintings. Martinez's masterful abstract compositions include the artist's signature motif of floating heads and gestural sweeping paint strokes. Spanning from popular urban culture to action painting, automatism, and Surrealism, Martinez's work joins together painting and drawing, abstraction and representation in non-traditional ways. Permeated with a sense of personal iconography, his practice often combines signature figurative elements, such as bug-eyed humans and eclectic headgear with gestural, abstract blocks of color. Energetic and raw, his paintings employ an aggressive use of color and texture with various combinations of oil, enamel, spray paint, and collage elements on canvas.
Eddie Martinez: Fast Eddie is organized by the Museum of Contemporary Art Detroit (MOCAD) and curated by Elysia Borowy-Reeder, executive Director. Exhibitions and public programs at MOCAD are supported by the A. Alfred Taubman Foundation. Eddie Martinez: Fast Eddie is generously supported by Mariano De La Torre, the Edward C. and Linda Dresner Levy Foundation, Akilah Ensley, Erich Huang, Kelle + Christopher Ilitch, Nico Meckelnburg, Roman Mendoza, Mitchell-Innes & Nash, Ronnie K. Pirovino, Carlos Rolon, Shawn Smith, Jorge Saade Tanus, Marc A. Schwartz + Emily Camiener, Daniel Sundin, and Timothy Taylor.