VIRTUAL SCREENING + TALK: TALI KEREN, NADIA L. ABU EL-HAJ + KAREEM ESTEFAN
TALI KEREN, NADIA L. ABU EL-HAJ + KAREEM ESTEFAN
Thursday, August 5, 2021 at 7pm
ONLINE: mocadetroit.org/live
---
Please join us for a live screening and conversation with artist Tali Keren, Nadia L. Abu El-Haj, Professor and co-director of the Center for Palestine Studies at Columbia University, and Kareem Estefan, writer, critic and PHD candidate in Modern Culture and Media at Brown University. The three will discuss a new work by Keren titled Un-Charting, on view at MOCAD's Black Box gallery through August 8, that explores the way myth, fantasy, and western Christian evangelism have shaped the historical legacy of Israel-Palestine. Using the film as a point of departure, the conversation will center questions around the formation of political ideology and structural violence—through narrative building and archeological practices—exploring these at the intersection of personal identity and ethno-nationalism. This conversation will be followed by a Q&A and will take place on Zoom at the link below.
---
JOIN THE CONVERSATION
Tune in to this public program on Zoom to engage with the panelists and submit questions to the Q+A discussion.
---
RELATED EXHIBITION
UN-CHARTING
JUN 4 – AUG 8, 2021
LEARN MORE
---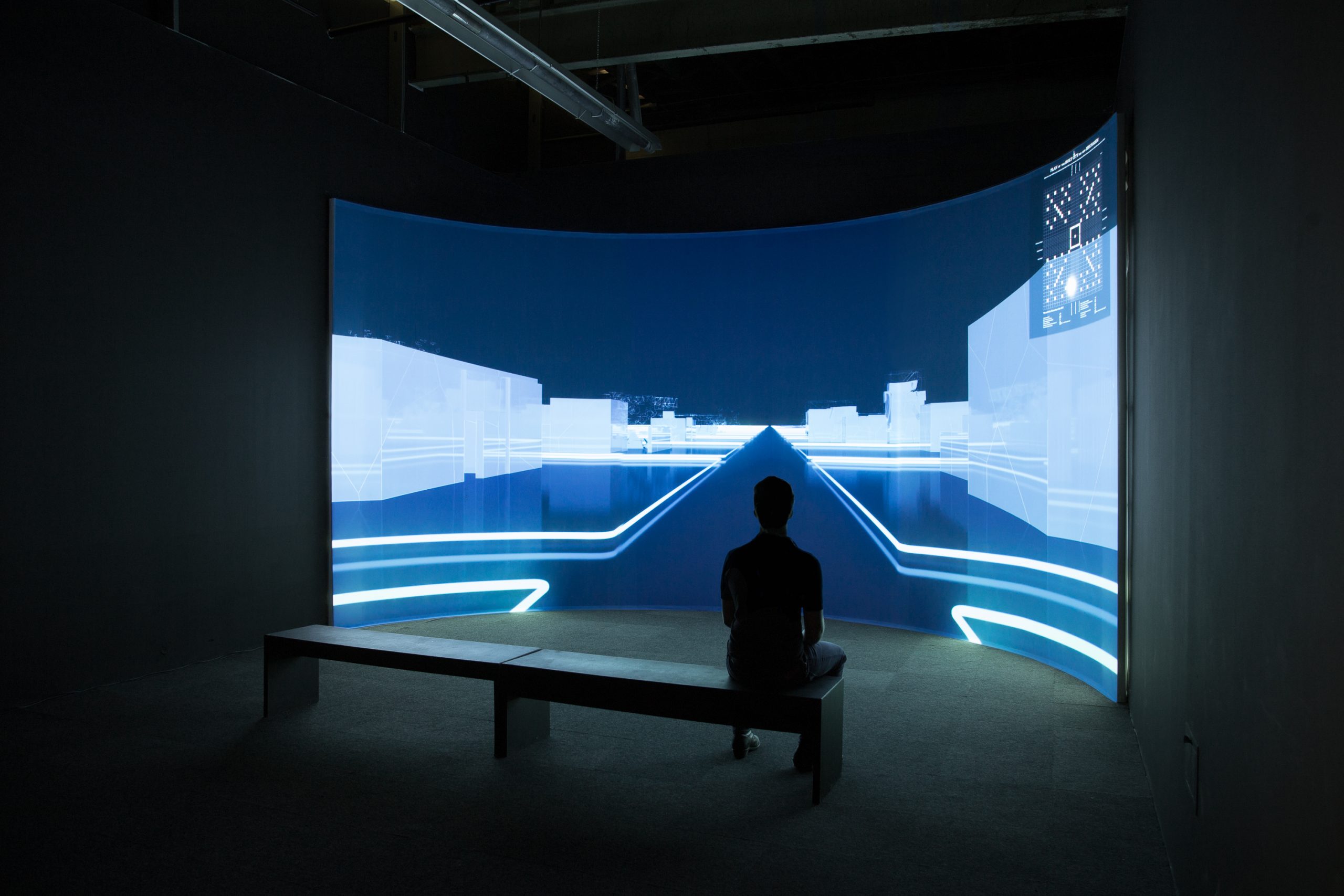 Image: Tali Keren, Un-Charting, 2021. HD video, installation view. Courtesy of the artist.
---
MORE ABOUT THE PARTICIPANTS
Nadia Abu El-Haj is Ann Whitney Olin Professor in the Departments of Anthropology at Barnard College and Columbia University, Co-Director of the Center for Palestine Studies, and Chair of the Governing Board of the Society of Fellows/Heyman Center for the Humanities at Columbia University. She also serves as Vice President and Vice Chair of Board at The Institute for Palestine Studies in Washington, DC. The recipient of numerous awards, including from the Social Science Research Council, the Wenner Gren Foundation, the MacArthur Foundation, the Harvard Academy for Area and International Studies, the Institute for Advanced Study at Princeton, and the Harry Frank Guggenheim Foundation, she is the author of numerous journal articles published on topics ranging from the history of archaeology in Palestine to the question of race and genomics today. Abu El-Haj has published two books: Facts on the Ground: Archaeological Practice and Territorial Self-Fashioning in Israeli Society (2001), which won the Albert Hourani Annual Book Award from the Middle East Studies Association in 2002, and The Genealogical Science: The Search for Jewish Origins and the Politics of Epistemology (2012). While Abu El-Haj's two books to date have focused on historical sciences (archaeology, and genetic history), her third book, forthcoming in 2022 from Verso, examines the field of (military) psychiatry, and explores the complex ethical and political implications of shifting psychiatric and public understandings of the trauma of American soldiers.
Kareem Estefan is a writer, editor, and PhD candidate in Modern Culture and Media at Brown University. His dissertation, "Witnessing as Worldbuilding: Imagining Repair and Decolonization in Palestinian Visual Culture," examines the practices of contemporary Palestinian artists and filmmakers who speculate about potential histories and decolonized futures, refusing the humanitarian injunction to produce "visual evidence" of victimized subjects. Kareem's writing has appeared in publications including 4 Columns, Art in America, Artforum, BOMB, Frieze, Ibraaz, the Journal of Palestine Studies, Movement Research Performance Journal, Third Text, and World Records. He is co-editor of Assuming Boycott: Resistance, Agency, and Cultural Production (OR Books, 2017), an anthology of essays on boycott campaigns, transnational solidarities, and (self-)censorship in the arts. He is the recipient of a 2020-2021 Darat al-Funun Dissertation Fellowship and a 2021-2022 Mellon/ACLS Dissertation Fellowship. Kareem holds an MFA in Art Criticism and Writing from SVA and a BA in Comparative Literature from New York University.
Tali Keren is a media artist and educator based in New York. Her performances, videos, and installations focus on the formation of ideology and histories of settler-colonial violence. Keren's recent solo exhibitions include; Un-Charting, Museum of Contemporary Art, Detroit; The Great Seal at Eyebeam, New York and at the Center for Contemporary Art, Tel Aviv; and Heat Signature at Ludlow 38, MINI Goethe Institute, New York. Her work has been exhibited and performed at Anthology Film Archives, New York; the Museum of the Moving Image, New York; the Whitney Museum of American Art, New York; Tel Aviv Museum, Tel Aviv, Socrates Sculpture Park, New York; the Jewish Museum, New York; Museums Quartier, Vienna; Kunsthal Charlottenborg, Copenhagen; the Israeli Center for Digital Art, Holon; Herzliya Museum of Contemporary Art; and in New York City's Times Square. Keren received her BFA in 2009 from the Bezalel Academy of Art and Design, Jerusalem and earned an MFA from Columbia University, in New York, in 2016. She was an artist in residence at ISCP, NARS Foundation, and BRICworkspace, New York. Keren is currently an artist in residence at the Queens Museum, New York, and is working on a collaborative project that will open at the museum in the fall of 2021.