Carlos Bunga: Doubled Architecture
On view February 2 – April 15, 2018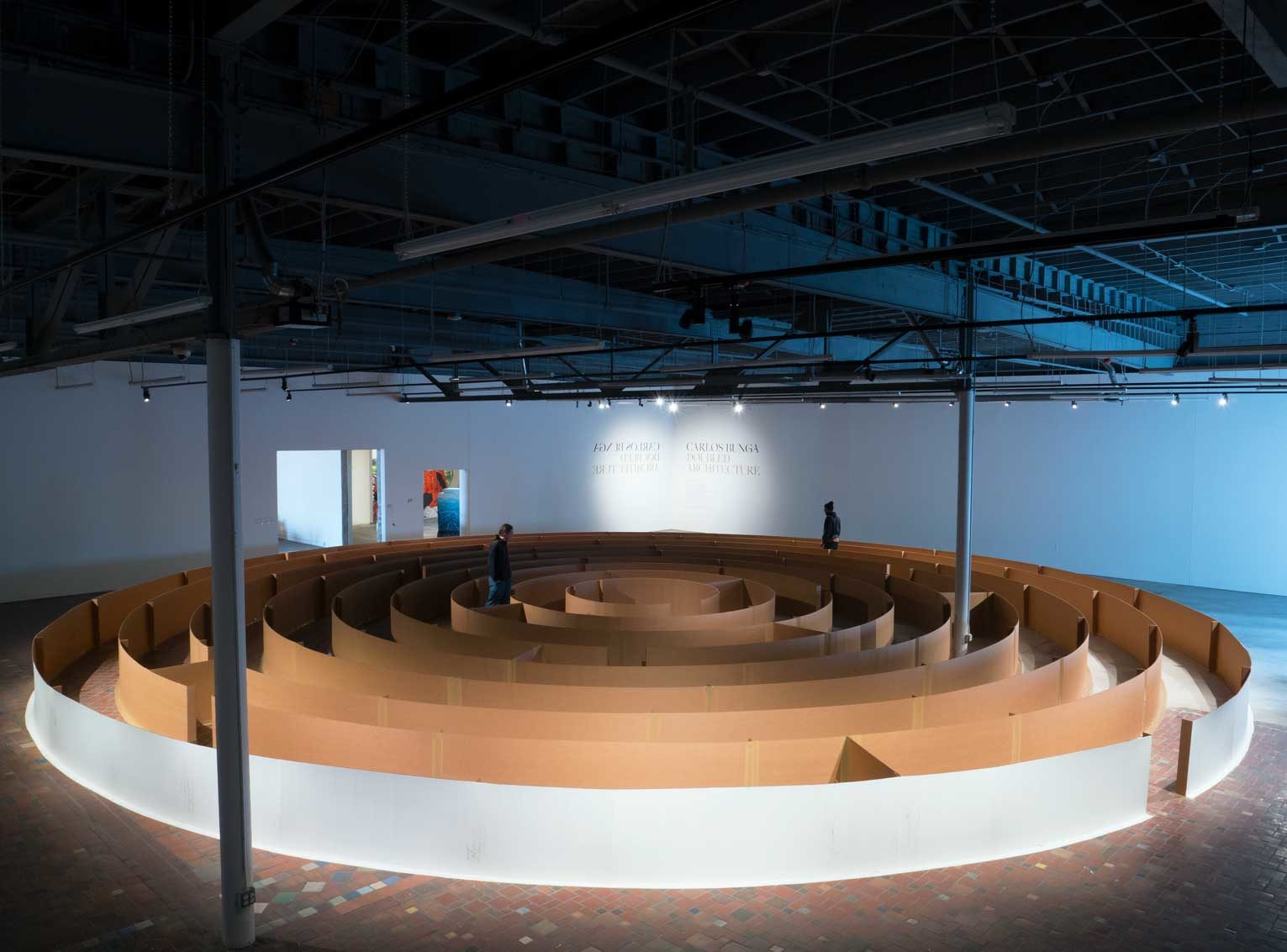 Carlos Bunga, Doubled Architecture, 2018, Cardboard, packing tape, matt paint and glue. Courtesy of Museum of Contemporary Art Detroit, Detroit.
Portuguese artist Carlos Bunga relies on mundane materials—cardboard, chiefly, as well as packing tape, paint, and the like—to create architecturally inspired installations. Creating mirrors of the space the work occupies, constructing complex labyrinths that shroud visitors inside brown and white walls, or intervening directly into the architecture of a given space, Bunga's works all deal with the ways in which our built environments impact, guide, and occasionally fail us. Throughout his works, physical structures also act as analogs for forms and patterns of thought. Destruction, displacement, and repetition are tropes that the artist returns to again and again, each act of creation and disassembly eating away at our sense of architecture's solidity, and with it, our grasp on our own ideological defaults.
Bunga's site-specific installations are set in dialogue with the architectures that they occupy. Often conceived in response to the building and its original purpose, Bunga works intuitively in response to space, creating (and often destroying) his works in psychic dialogues with their surroundings. In Capella (2016), an installation created in partnership with Barcelona's MACBA, the artist responded to a space originally meant for communal worship. Inside the domed stone structure, Bunga created a new set of walls, columns, and passages out of cardboard.
Transforming the space in this way, by compartmentalizing the openness of the church's central hall, was only Bunga's first step. His next gesture, which he documented through video, was to destroy what had just been built. Using box cutters, the artist slashed the walls and columns near their bases, pushing, pulling, and collapsing the teetering walls to create a new ruin within the cavernous space. The immensity of this doubled architecture—the original, soaring stone walls, and the enormous piles of cardboard wreckage—composed a psychologically rich interior that overwhelmed the senses, humbled and disoriented its visitors.
Bunga's works have strong phenomenological effects, his installations transporting us somewhere else, altering our senses of ourselves, and carrying us on an ambiguous temporal journeys. Working through these gestures of negation and transformation, Bunga recalls the artistic interventions of Michael Heizer, Gordon Matta Clark, and Lawrence Weiner, who also carved into, dug up, cut apart, reconfigured, and altered both landscapes and architectures. His works, like theirs, are both poetic and raw, aesthetically simple and conceptually complex.
Bunga's installation for the Museum of Contemporary Art Detroit relies on his usual materials: cardboard, glue, and tape. Piecing together these elements, Bunga forms a spiraling maze within the Museum's gallery that doubles and heightens our sense of enclosure. Echoing the rawness of the Museum's building through its simple materials, Bunga's labyrinth creates both an architectural space and a psychological enclosure. Forcing visitors into a space of contemplation, quiet, and confinement, Bunga's installation encourages a confrontation with the self, an examination of our own interiority within the constructed space of its cardboard walls.
The exhibition Carlos Bunga: Double Architecture is organized by the Museum of Contemporary Art Detroit.
MOCAD exhibitions and public programs are supported by the A. Alfred Taubman Foundation. Support for exhibitions and educational initiatives is provided by the Edith S. Briskin/ Shirley K. Schlafer Foundation.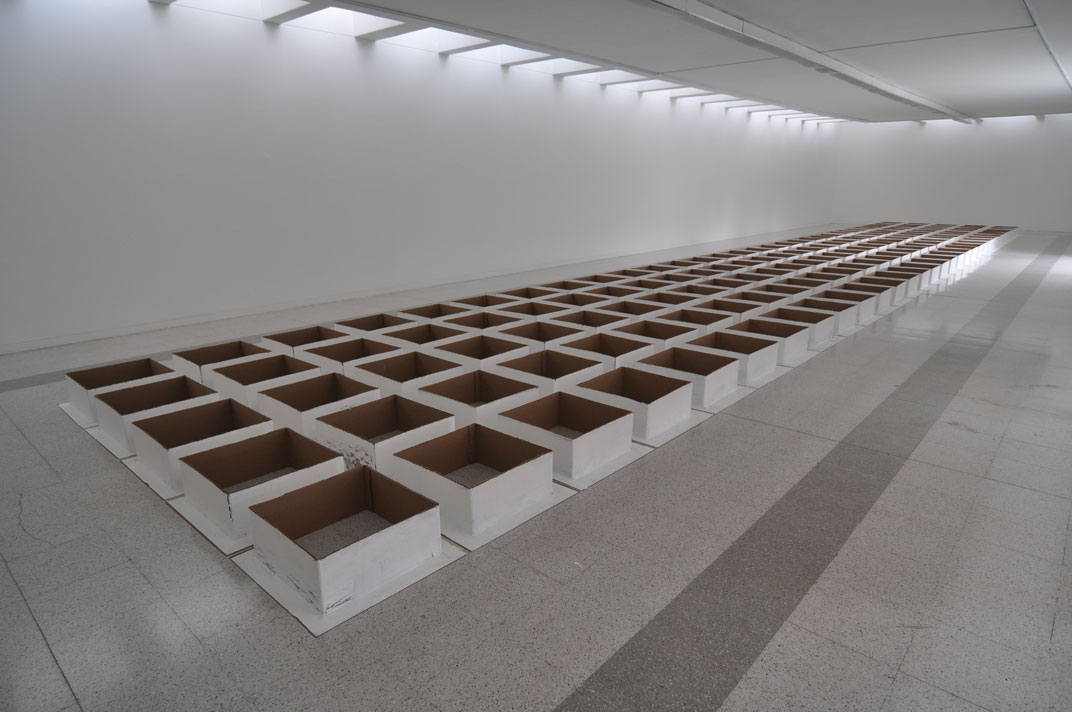 Carlos Bunga, Reflejo, 2015, Cardboard, packing tape, matt paint and glue. Courtesy of Museo de Arte de la Universidad Nacional de Colombia, Bogotá. Photo credit: Carlos Bunga.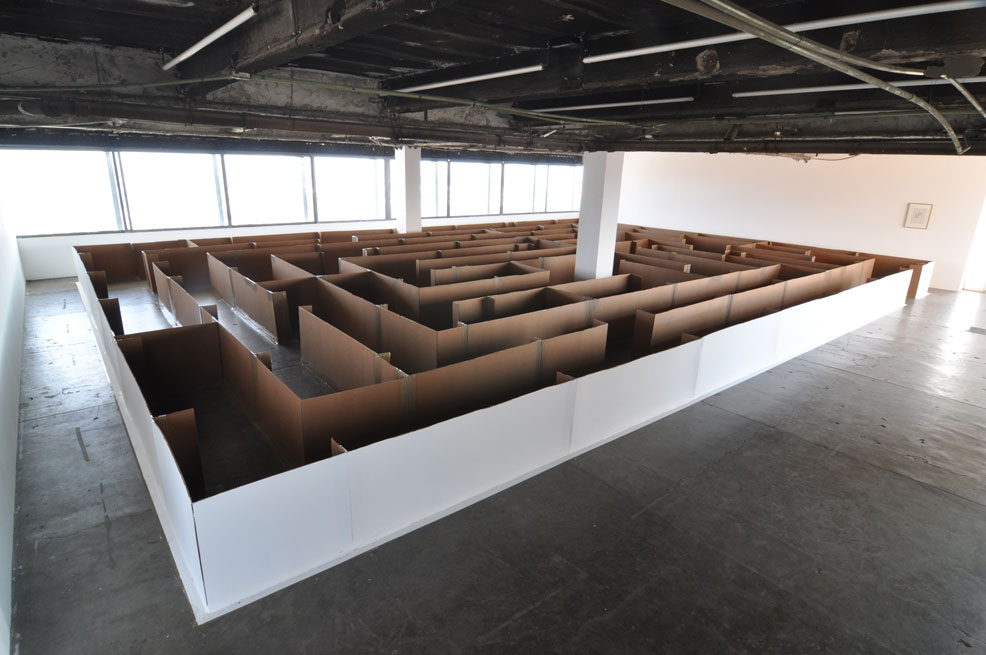 Carlos Bunga, Mental Space, 2010, Cardboard, packing tape, matt paint and glue. Courtesy of Oficina para Proyectos de Arte (OPA), Guadalajara. Photo credit: Carlos Bunga.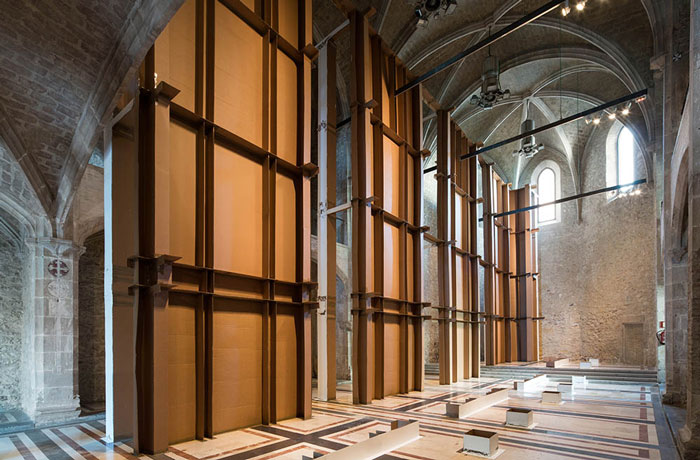 Carlos Bunga, Capella, 2015, Cardboard, packing tape, matt paint and glue. Courtesy of Museu d'Art Contemporani de Barcelona, Barcelona. Photo Credit: Adrià Goula.